PEN World Voices Festival presents

UNLIVED LIVES

Hwang Sok-yong, Petra Hůlová, Georgi Gospodinov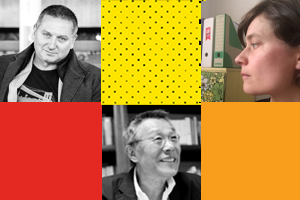 About This Show
Sometimes the life we wanted, or the life we planned, is thwarted by the place in which we find ourselves, be it a totalitarian state, a nation at war with itself or a country emerging from decades of communist rule. These writers powerfully and movingly explore worlds, in Bulgaria, the Czech Republic and South Korea, where people are buffeted by geopolitical forces beyond their control, and forced ultimately to make do with lives that fall far short of their dreams. With Georgi Gospodinov, Petra Hulova, and Hwang Sok-yong.
Hwang Sok-yong is arguably Korea's most renowned author. After surviving five years in a North Korean prison, Sok-yong went on to receive Korea's highest literary prizes. His work is published in North and South Korea, Japan, China, France, Germany, and the U.S.
Petra Hůlová's novels, plays, and screenplays have won numerous awards, and she is a regular commentator on current events and gender issues for the Czech press. Her eight novels and three plays have been translated into twelve languages.
Georgi Gospodinov is the author of Natural Novel and The Physics of Sorrow, which won the 2016 Jan Michalski Prize and was a finalist for the 2016 PEN Translation Prize. The Story Smuggler is his most recent book to appear in English, and the 2017 Academy Award nominee Blind Vaysha is based on one of his stories. He is currently a fellow at the Cullman Center at the New York Public Library.
Photo Credit: Phelia Barouh
Friday, April 20, 2018 at 7pm
Estimated Runtime
90 minutes
share £