Under Exposed
Featuring Dana Florin-Weiss, Krista Racho-Jansen & CJ HOlm, Alyssa Gersony, and Lydia Mokdessi & Emie Hughes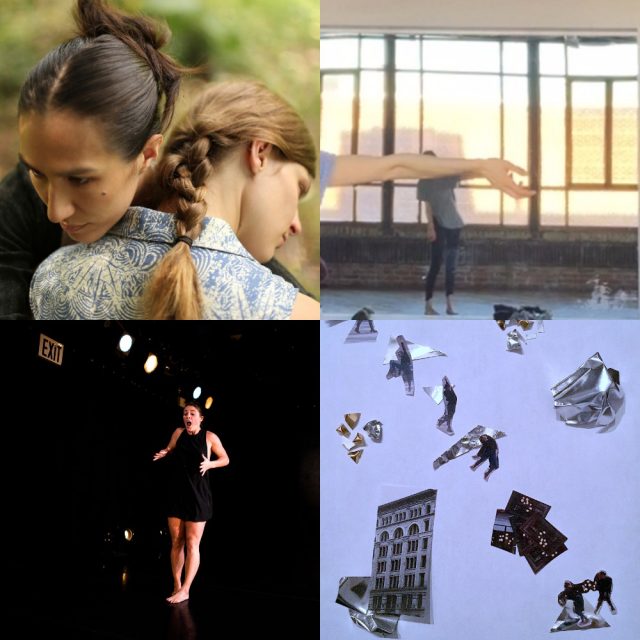 About This Show
Initiated in the early 90s, this series focuses on emerging, up & coming contemporary dance choreographers who are refining/defining their distinctive styles. Curated by Doug Post.
Featuring Dana Florin-Weiss, Krista Racho-Jansen & CJ HOlm, Alyssa Gersony, and Lydia Mokdessi & Emie Hughes
About the Artists
Dana Florin-Weiss a native of Vermont, grew up watching people make work in the Bennington College Dance Department. Now a freelance artist living in Brooklyn, Dana combines her passion for movement with her interest in sound design and the moving image. Her work has been presented at Brooklyn Studios for Dance, Center for Performance Research, Green Space's Take Root, Movement Research's Open Performance, HERE Arts Center, WeisAcers, Glasshouse and others. She has performed with Peggy Florin, Stacy Grossfield, Juliette Mapp, Hannah Verrill, Cathy Weis and is currently in process with Rebecca Davis and Cathy Weis.
Alyssa Gersony is a Queens-based artist making contemporary dance in New York City since 2013.  Her solo work was recently commissioned by Gibney Dance as a part of the inaugural Work Up Emerging Artist Series in 2015. Since moving to New York City, she has been invited to present work at Triskelion Arts (2017, 2016), Green Space (2015), the Center for Performance Research (2014), the Actors Fund Art Center (2014), and Brooklyn Fire Proof (2013). She is currently a research apprentice with Jaamil Olawale Kosoko, and a company member with ChrisMastersDance.
Krista Jansen is a dancer and choreographer born, raised and based in New York City.  Her choreography has been performed at Jacob's Pillow Dance Festival, The FAB! Festival, The DancenOw RAW festival, the Harkness Dance Festival and Dance Theater Workshop. Krista is the Dance Block Facilitator at Fourth Arts Block, and arts and community organization on the Lower East Side.  She is also a teaching assistant to Ellen Robbins, whose modern dance classes for children ages 5-15 were Krista's first experience in dance, choreography, and improvisation. www.kristajansen.wordpress.com is a great place to sign her mailing list, look at dance-y pictures, and stay updated on her performances. CJ Holm has been making dances since 1997 and is still doing it. As a choreographer, CJ works in and with the body and all its expressive capacities, including gesture, speech, and vocal sound as well as dance. CJ's work has been presented locally at at BAX/Brooklyn Arts Exchange, Chez Bushwick, Center for Performance Research, Dixon Place, Irondale Center, Judson Church—both for Movement Research and for STUFFED, Queens Fringe Fest, The Tank; and out-of-town at Christ Church (Philadelphia, PA), Dance Place (Washington, DC), and the Howard County Dance Festival (Columbia, MD). Together they form the duet company Jansen & Holm, making dances that are imaginative, spacious, and humane. Their work roots itself in an experiential understanding of the human condition, and uses image and metaphor to speak to a shared visceral truth. Their body-centered research includes gesture, spoken word, vocal music, and costume design, as well as pressing against the limits of dance technique. jansenandholm.wordpress.com
Emie Hughes is a dance-maker and visual artist working in/with the modes of improvisation, watercolor, and artist tape. She is originally from Chadds Ford, Pennsylvania and lives in Brooklyn. www.emiehughes.com. Lydia Mokdessi is a performer, writer, and editor of Culturebot. She currently dances with choreographers Buck Wanner and Lindsay Reuter, and makes duets with Emie Hughes in collaboration with musician Benjamin Wagner. www.lydiamokdessi.com.
Tuesday, April 4 at 7:30pm
General Admission
$15 in advance
$18 at the door
Stu./Sen./idNYC
$12
Estimated Runtime
80 minutes
share £