Under Exposed
Featuring Melissa West, Breaktime., Juan Michael Porter II, Jesse Obremski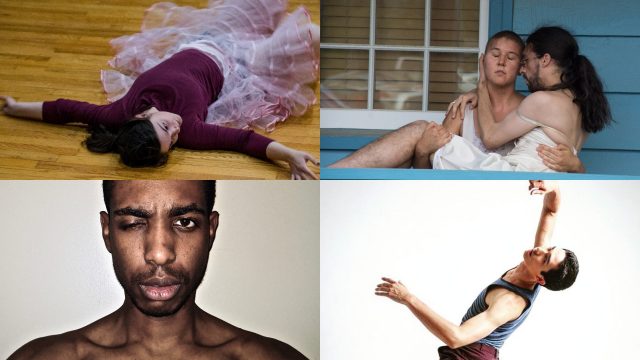 About This Show
Initiated in the early 90s, this series focuses on emerging, up & coming contemporary choreographers who are refining/defining their distinctive styles. Curated by Doug Post.
Featuring Melissa West, Breaktime., Juan Michael Porter II, Jesse Obremski
About the Artists
Melissa West is a dancer/choreographer/curator whose work investigates the tensions between space, place, and the self. This includes works for stage and film, as well as landscapes and public spaces. Melissa holds dual-degrees in Dance and English from Hunter College, and an MA in Performance Studies from New York University. Since 2008, her work has been presented at the Atlantic Salt Factory, Newhouse Center for Contemporary Art, The Living Theater, Triskelion Arts, Queens Museum, The Brick Theater, The Greenbelt Nature Center, and the Bowery Poetry Club. She is the VP of Curation at Snug Harbor on Staten Island.
BREAKTIME. is a performance duo comprised of and founded by Holly Sass and Jonathan Matthews, undergrad classmates in NYU Tisch Dance's class of 2014. Often cast together in a variety of work, the pair joined creative forces in 2017 to participate in Tisch Dance's Alumni Choreographic Workshop, during which their first work, This Will Be, was created under the mentorship of Gus Solomons, Jr. Since then, they have been presented by UNA Projects, Liberty Hall Dance Festival, Home Audio, and Center for Performance Research. BREAKTIME. is a site-fluid reservoir for bad ideas.
Juan Michael Porter II was born in Mobile, Alabama. He has choreographed and conceived work with Yasuhiko Fukuoka, Yvonne Ng, Autre Ne Veut, William Hooker, Isaiah Sheffer, and Bird Mask. His work has been commissioned and presented by Nimbus Dance Works (2016 Choreographic Residency), Creative Concept Productions, Dixon Place, Sangre de Cristo Art Center (Guest Artist in Residence), 3rd Ward, The Fresh Fruit Festival (Best New Play Award; 2011), Chen Dance Center (newSteps Commission 2013), and Webster Hall. Performing we were never awesome, Juan and his crew breathe madcap life into their struggles to thrive beyond piss poor options. we were never awesome is more than Black vs White. It's dreams deferred vs. privilege demanded, shoved into a ready-to-blow orgasm of juicy dancing.
Jesse Obremski, described as one "with fluent simplicity" and "quiet understanding", trained at The Ailey School, LaGuardia High School, and The Juilliard School. Jesse has received a variety of awards and teaches/choreographs across America and Canada. Jesse has performed a wide-range of works and performs with Diversity of Dance Inc., Brian Brooks Moving Company, Kate Weare Company (guest artist), Buglisi Dance Theatre, Lar Lubovitch Dance Company, and The Limón Dance Company (principle dancer). Jesse is the founder and director of JOIN Ensemble and has also had his work presented at EMIA, Playscape, The Juilliard School's Choreographic Honors, and others. www.jesseobremski.com
Tuesday, February 6, 2018 at 7:30pm
General Admission

$15 in advance
$18 at the door
Stu./Sen./idNYC

$12 in advance
$15 at the door
Estimated Runtime
80 minutes
share £
Credits
Photo credit:
Lance Reha (for Melissa West), Danielle Bugge (for BREAKTIME.), Juan Michael Porter II (for Juan Michael Porter II), Stephen Delas Heras (for Jesse Obremski)