Under Exposed
Featuring Maya Kite, Rina Espiritu, Jenny Gram & Carmen Caceres DanceAction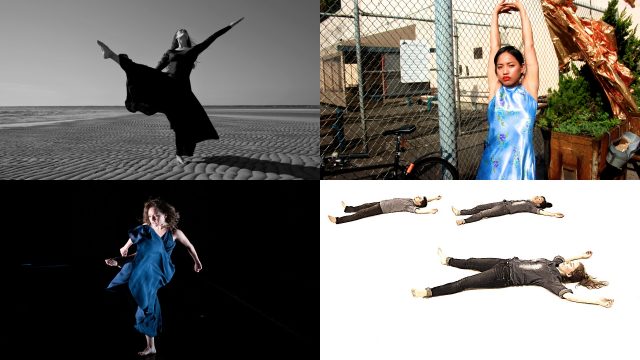 About This Show
Initiated in the early 90s, this series focuses on emerging, up & coming contemporary choreographers who are refining/defining their distinctive styles. Curated by Doug Post.
Featuring Maya Kite, Rina Espiritu, Jenny Gram & Carmen Caceres DanceAction
About the Artists
MAYA KITE began choreographing at the age of 14 in her native Evanston, IL. Throughout her schooling at Interlochen Arts Academy and The Boston Conservatory, Maya continually sought out opportunities to choreograph, honing her skill through trial and error. Maya founded MKD in 2012. Since its first season Maya Kite and Dancers has performed at Roxbury Community College, the NY Federal Reserve Bank, FAB! NYC Festival, Check It Dance Festival, Gibney Dance Center, the Triskelion Collaboration in Arts Festival, and various productions at The Tank. Besides choreographing, Maya also has had the honor of dancing with Sokolow Theater Dance Ensemble.
Rina Espiritu is an independent local artist with a green card and a part-time restaurant job. She has a major in Dance and minor in Asian American Studies and Psychology. Born and raised in the Philippines, she moved to NYC with her family in 2005 and resided in Queens. She's fixated on finding ways to represent feelings of being trapped- in our own physical body, by the structural systems we participate in and by our individual thought processes. She is looking for a way out. She's very curious about bitcoins and how to be a digital nomad. www.rinaespiritu.com
Jenny Gram, originally from Santa Clara, California, holds a BFA in dance and a BA in English from the University of Iowa. She has performed with such artists as Jennifer Archibald, Armada Dance, and Mark Dendy in New York City and Shen Wei Dance Arts at the North Carolina Museum of Art during the American Dance Festival. Currently, Jenny is dancing in her fourth season with The Moving Architects, and makes her own moves under The JGram Project. For more information check out: www.thejgramproject.com.
Carmen Caceres is a dance artist, originally from Buenos Aires, Argentina. Her works and her dance group, DanceAction were presented at Dixon Place, Green Space, Center for Performance Research, and events like FIDCDMX Festival of Mexico City. Carmen received a BA in Dance and Education from SUNY Empire State College and studied at the former Merce Cunningham Studio. She graduated from the National School of Dance and has studied Dance Composition at the National University of the Arts UNA, both in her native city. Some of her past collaborations include Elia Mrak, Sarah Berges, Lisa Parra, and Jody Oberfelder.
Tuesday, October 10, 2017 at 7:30pm
General Admission

$15 in advance
$18 at the door
Stu./Sen./idNYC

$12
Estimated Runtime
80 minutes
share £
Credits
Photo credit:
Larry Pratt (for Maya), Curtis Bryant (for Rina), Scott Shaw (for Jenny), Carmen Caceres (for Carmen)