In the lounge

TRIXIE THE GIANT

Alanna Coby & Sophie Blumberg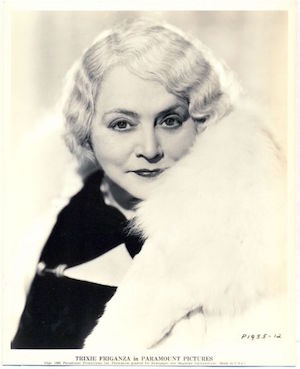 About This Show
Inspired by Trixie Friganza, a Vaudeville star & suffragist who died in obscurity in the 1950s after a decades-long career, Trixie the Giant reimagines and reinterprets legendary vaudevillian routines. Equal parts silly, sexy, ridiculous, and controversial, Trixie the Giant explores the relationship between women and comedy, art and fame, and watching and being watched.
about the artists
Alanna Coby is a Brooklyn-based playwright and performer. Her play Graceful Exit has been developed through residencies with The Drama League, the Mabou Mines Resident Artist program (NYC), and with the support of The Syndicate while in residency at The Chicago Performance Lab. Alanna has performed at The Brick, Barrow Street Theatre, the Brava Theatre Center (SF), Aurora Theatre (Bay Area), and in the world premiere of Civility! at Hamlin Park Fieldhouse (Chicago). Alanna is a founding member of The Syndicate, and a graduate of SITI Conservatory. In addition to Trixie the Giant and Graceful Exit, she is also developing a new play, Tiny Errors at the End of the Millennium, with The Syndicate. B.A. Sarah Lawrence College.
Sophie Blumberg is a Chicago-based theatre director, deviser, and dramaturg. She has worked with The Civilians, Actors Theatre of Louisville, the Goodman Theatre, Cherry Lane Theatre, The Moving Company, Pig Iron, The Hypocrites, Chicago Dramatists, and Cold Basement Dramatics, where she served as Artistic Director. She received a DCASE In-The-Works Grant for The Half-Life of Memory (2014), and a Drama League First Stage Artist Residency for Trixie the Giant (2017). She is a founder of The Electric Brain, where her next piece, We Regret to Inform You That Reza is Dead, will premiere this summer in Chicago.B.A. Kenyon College.
Friday, May 26 at 7:30pm
Estimated Runtime
45 minutes
share £
Credits
Composer
Sean Vigneau-Britt
Photo credit:
Trixie Friganza
Links