PEN World Voices Festival presents

TRANSLATION AND THE POWER(S) OF LANGUAGE

Judith Santopietro, Mary Ann Newman, Trifonia Melibea Obono, Alicia Kopf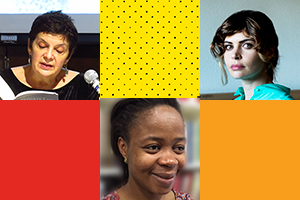 About This Show
Languages rarely exist in isolation, and almost always find themselves in a pecking order of power. In a country like the U.S., Spanish is seen as secondary to English, though it is the official language of over 20 countries and the lingua franca for numerous communities, from indigenous peoples to newly arrived immigrants. And yet, the existence of a dominant language can also be a deterrent to linguistic diversity. This panel explores some of the places where Spanish abuts other languages and how power relationships ebb and flow. How does translation affect these relationships? Can it restore a place of equality between a majority language and a minoritized language? And does it erase difference in the process? With Alicia Kopf, Judith Santopietro, Trifonia Melibea Obono, Rubén Ríos-Avila. Moderated by Mary Ann Newman.
Mary Ann Newman translates fiction (Quim Monzó), poetry (Josep Carner), and essay (Xavier Rubert de Ventós) from Catalan and Spanish. She is co-chair of the PEN America Translation Committee and in 2017 won the NACS Award for Outstanding Scholarship and the J.B. Cendrós Award (Òmnium Cultural) for her translation of Private Life by Josep Ma. de Sagarra.
Trifonia Melibea Obono is a journalist and a professor at the National University of Equatorial Guinea. She is pursuing her doctorate in gender studies and human rights from the University of Salamanca, Spain.
Alicia Kopf is the artistic name for Catalan writer Imma Ávalos. After her first individual exhibition at the Joan Prats Gallery in Barcelona, she participated in many collective exhibitions at CCCB and MACBA, or the Tàpies Foundation, amongst others. Her first novel, Germà de gel (L´Altra Editorial, 2016), has received several awards and will be published in nearly 10 languages.
Photo Credit: Laia Gutiérrez
Judith Santopietro is a writer in Spanish and Nahuatl.In 2017, she was a finalist for the Aura Estrada Prize. She writes narratives of migrationamong indigenous communities settled in New York City. Santopietro ispursuing her Ph.D. in creative writing in Spanish at the University of Houston.
Saturday, April 21, 2018 at 12pm
Estimated Runtime
90 minutes
share £