Things in the Living Room : A Double Bill
"Lights" by Oscar Lopez and "Hunny-Bun & Baby Doll" by Louris van de Geer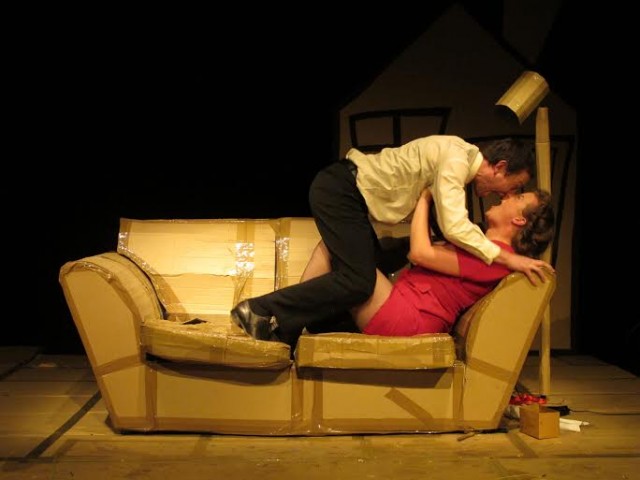 About This Show
 Lights is the portrait of a typical family in a typical room: they watch TV, play on the computer, and vacuum the floor. They talk at each other and ask meaningless questions. Somewhere a connection has been lost… Then the storm hits.
Hunny-Bun and Baby Doll is about two people (Hunny-Bun and Baby Doll) who are so in love…just SO in love. Their daughter Diddums is frustrated by their shallowness and the flimsy way they paper over their desperation with baby talk, heavy petting, mild fetishism, and pastries, that is, until the breaking point when she can't take it anymore and does something drastic.
About the Artists
Louris Van De Geer is a playwright from Melbourne, Australia. She is currently in New York City undertaking an internship with The New York City Players. Louris graduated from the Victorian College of the Arts with a Masters of Writing for Performance. Her work has been developed and presented at Next Wave Festival, Melbourne Theatre Company, Malthouse Theatre, MKA: Theatre of New Writing, St Martins, US-A-UM, Five Point One, Playwriting Australia, fortyfive downstairs, Darebin Speakeasy, TheatreWorks, The Other Film Festival and the Australian Centre for the Moving Image.
 Oscar Lopez is a Brooklyn-based freelance writer and theater director. Originally from Mexico, Oscar moved with his family to Australia in 2000. Graduating from the University of Melbourne in 2011 with a BA (Honors) in Creative Writing and Theater, Oscar was awarded the Hannah Barry Memorial Award to take his show 'Love' to the Edinburgh Fringe Festival in 2011. In 2012 Oscar relocated to New York to undergo an internship with Tectonic Theater Project. Last year Oscar was the Assistant Director for the Lower East Side Festival of the Arts at Theatre For the New City. Credits include Dixon Place, Manhattan Repertory Theater, Theater for the New City and Brooklyn Academy of Music.
Friday Jan. 30th 7:30pm
$12 in advance
$15 at the door
$10 students/seniors
Estimated Runtime
80 minutes
share £
Credits
"Lights"
Written and Directed by
Oscar Lopez
"Hunny-Bun & Baby Doll"
Written & Directed by
Louris van de Geer