The Unwritten Law
Chesney Snow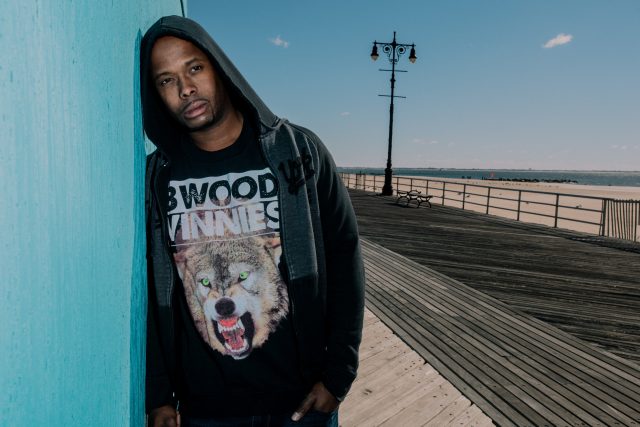 About This Show
World Famous beatboxer Chesney Snow presents his journey from a legacy of incarceration to fatherhood, homelessness to Harvard University, to ultimately starring in the musical INTRANSIT on Broadway. The Unwritten Law adeptly weaves this inspiring story with gifted performances, brilliantly blending words, dance, visual design and live music into an unforgettable evening.
about the artists
Chesney Snow is a Drama Desk award winning actor, beatboxer, poet, and songwriter currently starring on Broadway at Circle In The Square in the new musical In Transit. Snow is a pioneering figure in American beatbox culture having created and co-founded the World Beatbox Association and the American Beatbox Championships. He starred in and executive produced the award-winning film American Beatboxer which has distributed and Broadcast on Revolt TV and placed in the Rock & Roll Hall of Fame archives. Selected New York credits include Lanford Wilson's "Burn This", "To Kiss a Wound" (Dixon Place), Clifford Odets' Golden Boy, Back From The Front (NY FRINGE), and Primary Stages' world premiere of In Transit.
Rebecca Arends earned a B.A. in History and Afro-American Studies from the University of Wisconsin-Madison and attended The Ailey School (Oprah Winfrey Foundation Fellowship Recipient) under the direction of Denise Jefferson. She has collaborated with the Seán Curran Company for nine seasons. Additional notable credits: Anybodys (El Paso Opera's West Side Story); The Kiss (Tino Sehgal, Guggenheim Museum);Champion (Original Cast, Opera Theatre of St. Louis); Trainor Dance; Ana Isabel Keilson Company; Rosario/Adriane Lee. Ms. Arends is currently an Adjunct Assistant Professor and the Assistant Director of FreshDance at Drexel University and the Resident Jazz & Contemporary Instructor for Sparks Dance Company at the University of Pennsylvania. Most recently, she served as Dance Captain in Washington National Opera's production of Terence Blanchard's Champion at The John F. Kennedy Center for the Performing Arts. Rebecca is the founder of RAREdancework, a non-profit organization, dedicated to the performing arts, and her work has been presented at Dixon Place, Greenspace, and Constellation-Chicago. She is also a longstanding member of SAG-AFTRA and continues to work in film and television. Rebeccaarends.com
Sunday, August 6 at 6:30pm
Monday, August 7 at 7:30pm
General Admission
$22 in advance
$25 at the door
Stu./Sen.
$18
share £
Credits
Writer producer performer co-creator
Chesney Snow
Director/Choreographer/ Performer co-creator
Rebecca Arends
Production manager / co-producer
Joe Flowers
Composers & Musicians
AJ Khaw & Varuni Tiruchelvham
Assistant to the choreographer/Dancer
Maleek Washington
Dancer
Winston Dynamite Brown
Lighting Design & Technical Director
Ro-Z
Visual Projection
Emre Emirgil
Photo credit
Julia Zave