The Universal Drum: A Dramatic Visual Poem in ASL, English, & Percussion
SIGN & SING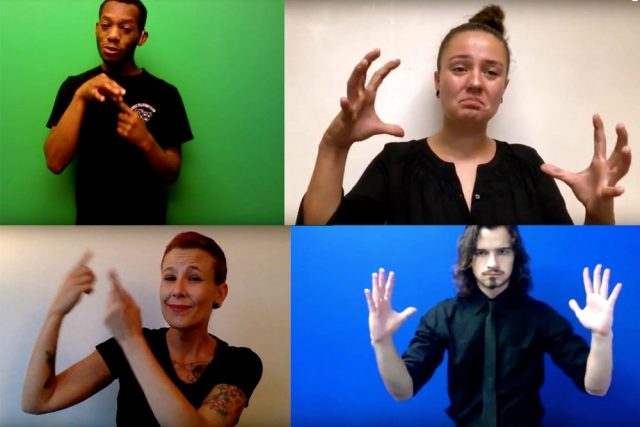 About This Show
The Universal Drum is an experimental work in development that explores the harmony of Deaf and Hearing worlds through drums. This piece integrates new music, drama, and American Sign Language (ASL) poetry that can be experienced by Deaf and Hearing audiences alike.
Commissioned by SIGN & SING, the work was first written by Willy Conley, translated by Gallaudet University students, and set to music by Brad Balliett for SIGN & SING's ensemble of singers, Deaf actors, and percussionists. SIGN & SING will enjoy featuring this work at Dixon Place, and engaging the audience with whacky instruments.
about the artists
Willy Conley (Poet) is a Deaf American playwright known as the most widely produced, living Deaf playwright in the world. His plays explore ideas from the Deaf perspective in relationship with hearing culture. Awards include the Sam Edwards Deaf Playwrights Competition winner, American Deaf Drama Award, Laurent Clerc Fund for Cultural Advancement, and the VSA Playwrights Discovery Award, among others. www.willyconley.com.
Brad Balliett (Composer) is a composer and bassoonist in New York City who explores innovative performance for all audiences. Brad is a composer best known for The Oracle Hysterial and the Gnostic Gospels as well as performing with Ensemble Connect at Carnegie Hall, the Princeton Symphony, Ensemble Signal, and other renowned new music ensembles. In his spare time, he teaches composition at Sing Sing prison and battered women's shelters. www.bradballiett.com.
Katherine Dubbs (Concept/Director) is a stage director and opera producer who has gained renown for her innovative approach to opera and new music. Previously the Founder and Artistic Director of Princeton Opera Company, Katherine focuses on community-based theatre and new approaches to musical performance. Katherine is the Founder of SIGN & SING, dedicated to create accessible, Deaf-friendly art for her family. http://www.katherinepearldubbs.com/
SIGN & SING thanks and acknowledges Gallaudet University's "Sign Language Translation" students for their ASL translation work: Lucia Cavalier, Gideon Firl, Jacinda Baldwin-Gomez, Carrie Suggs, Trent Harper, Chuck Kalu, Thandiwe Dunn, and Angela Reel.
Saturday, January 13, 2018 at 7:30pm
General Admission
$15 in advance
$18 at the door
Stu./Sen./idNYC
$12 in advance
$15 at the door
Estimated Runtime
60 minutes
share £
Credits
Creative Team:
Poet Willy Conley
Composer Brad Balliett
Concept/Director Katherine Dubbs
Director of ASL Beth Applebaum
Stage Manager Lauren Vaicels
Performers:
ASL Performers Andrew Morrill, Malik Paris
Soprano Francesca Federico
Mezzo-Soprano Heather Jones
Percussions Dylan Greene, Karl Ronneburg
Links