International Human Rights Art Festival

The Tent of Casually Observed Phenologies

James Leonard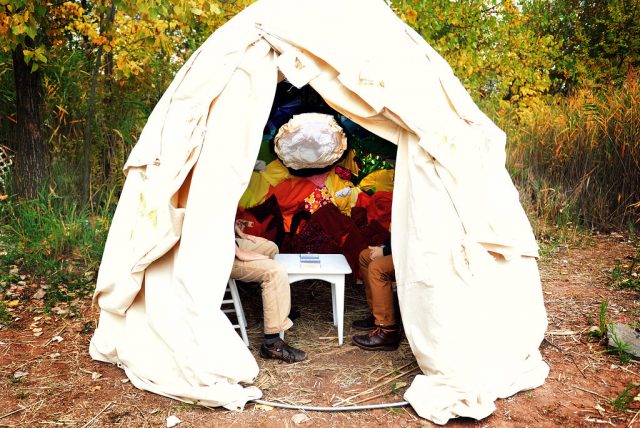 About This Show
A traveling performance installation by artist James Leonard in which Leonard gives free, private, climate-change divination readings. Each reading begins with a question from the querent and lasts 10-15 minutes. The tent will be set up in the rehearsal room (downstairs in Dixon Place) and open Friday from 6:00pm-7:15pm; Sat from noon-8:30pm; Sunday from 10am-7:00pm.
"To walk into Leonard's latest installation, The Tent of Casually Observed Phenologies, is to enter a space that expresses heaven and earth, past and future. Participants step past walls festooned with strips of colorful, recycled cloth and haunting pastel watercolors of animals that seem to be on the verge of disappearing. It is an ephemeral space intended, through both shape and sound, to convey intimacy and connection with one's immediate surroundings." Smithsonian Magazine, July 2016.
video trailer
March 4-5, 2017
12:30-6pm
Free, with any day pass, ticket to a Festival event or during early-evening happy hours.
share £
Links