The Story of Tap: 20th Anniversary
Created by Hank Smith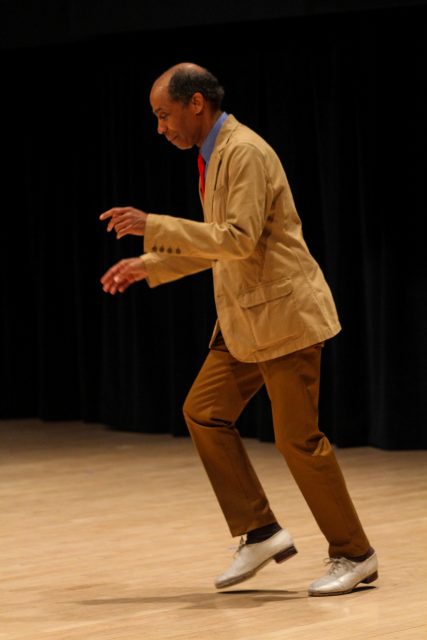 About This Show
The Story of Tap: 20th Anniversary is a continuation of a series originally done at Dixon Place for six evenings in 1998 and 2005. It returned for one night in 2015 and 2017 and comes back again this year. It is a narrative of tap dance, rather than some definitive history of it. Hank Smith will engage in conversation with performers about tap and associated art forms. Film clips will be shown and the performers will cover different perspectives on experience by telling their stories through words, movement and music. It's all an improvisation. The story keeps going…
about the artists
Hank Smith has done mime, clowning, dance, photography, video and television production. For twenty years he was a Stage Manager on Sesame Street, also functioning as Associate Director, Actor and Choreographer. As a tap dancer and educator, he has participated in the NY Committee to Celebrate National Tap Dance Day's Tap Extravaganza, the Tradition In Tap Experiences, NY Tap City and NJ Tap Festival. His performance work has also been presented in and around the NYC area. A retired Associate Professor Emeritus at Bloomfield College, New Jersey, he has two blogs and is writing a book about his creative journey.
Jason Samuels Smith, an established leader for Tap, is Choreographer, Performer and Humanitarian. He received an Emmy, Dance Magazine Award, and American Choreography Award as well as grants/residencies supporting the development of new work. Choreography and film credits include 2003 Jerry Lewis/MDA Telethon; So You Think You Can Dance; Dancing with The Stars; Dean Hargrove's Tap World and Tap Heat. Stage Credits include Broadway's Bring in Da'Noise, Bring in Da'Funk and Imagine Tap!. He supports organizations including Dancers Responding to Aids, Career Transitions for Dancers, Tap Into A Cure, and Move The World. He also designed a professional tap shoe sold exclusively by Bloch.
Derick K. Grant (Performer, Choreographer, Director) has an established career that spans over three decades. He was an original company member and Dance Captain for Bring In 'Da Noise, Bring In 'Da Funk at both The Public Theater and on Broadway and also starred in the role of 'da beat for the first National Tour of Bring In 'Da Noise, Bring In 'Da Funk. Mr. Grant was the recipient of the Princess Grace Award for Upcoming Young Artist. He created the critically acclaimed show Imagine Tap!, and his production of the history of tap, A NIGHT OUT: TAP!, toured the country for three months. He is currently the national tap spokesperson for So Danca.
Jazz pianist and composer Ayako Shirasaki has been playing the piano since the age of 5. She began performing in jazz clubs at the age of 12, and has won numerous piano competitions in her native Japan. In 2005, Ayako performed at the Kennedy Center as a finalist in the Mary Lou Williams Women in Jazz Piano Competition. She has also performed at many of NYC's jazz clubs including The Kitano, Blue Note, Smalls and Dizzy's Club as well as concerts in Japan & Europe. Ayako co-founded Sakura Music School in 2010 in NYC, and in August 2013, Ayako's piano trio album, "Some Other Time" (Jan Matthies Records) was released.
Wednesday, May 16, 2018 at 7:30pm
General Admission
$15 in advance
$18 at the door
Stu./Sen./idNYC
$12 in advance
$15 at the door
Estimated Runtime
90 minutes
share £
Credits
Guests
Jason Samuels Smith, Derick Grant
Piano by
Ayako Shirasaki
Photo credit:
Julie Lemberger
Links