The Same Shirt Show
Olivia Rose Barresi & Julia Larsen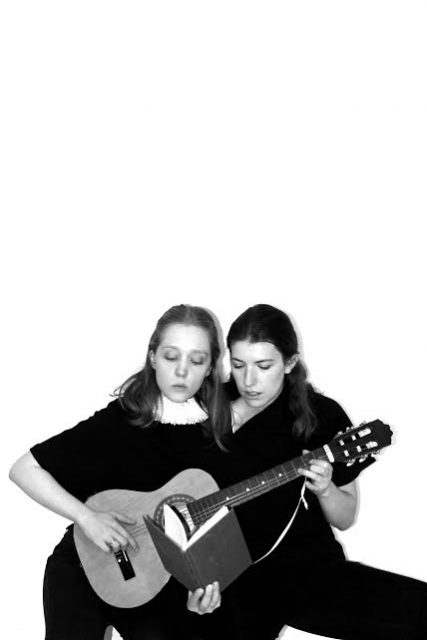 About This Show
Julia Larsen and Olivia Rose Barresi tackle some of the most iconic scenes for men in western dramatic literature, from Shakespeare to Mamet… all while occupying a single XXXXL polo shirt. Bound together on a journey, both by serious feminism and by the actual polo shirt, they will attempt to answer the following question: Are two women better than one… man? Featuring sword-fights, hat-gags, possible songs, and the true meaning of (male) friendship. Is this a vanity project? No one with vanity would do this!
about the artists
Julia Larsen has been wearing shirts since the age of zero. Favorites include: plain tees, casual button ups, & blouses with tiny animals. She has additionally worked extensively in pants, socks, and shoes. Other work with Olivia and Emma (and the Renovationists) includes Three Seconds at Barn Arts Collective and Saving Throw at The Tank. Proud Member of the 2014 LAB Intensive Ensemble. BA from Connecticut College. Additional Training: Lee Strasberg Theatre & Film Institute; MICHA.
Olivia Rose Barresi is an actor, theatre artist, and shirt owner from the Tri-State area. She is a member of the Renovationists, and recently appeared in their Barn Arts Collective production of Three Seconds by Corbin Went. Recent roles in NYC include Benedick in Much Ado About Nothing (Easy Leap Theatre Company; The Brick), King Henry in Henry V (48 Hour Shakespeare; spaces at MTC), and Rose Spencer in The New Sincerity (New Wave Theater Collective). She ties her flannel shirts at the waist more often than not. oliviarosebarresi.com.
Emma Rosa Went is a freelance director, and a wearer of shirts. She likes 'em collared. Co-founder of Easy Leap Theatre Company, for whom she has directed: Much Ado About Nothing (The Brick;) The Changeling (West End Theatre;) Othello, and Hearts of Gold: from Henry IV (West End Lounge;) and Love's Labors Lost (Access Theatre, LPAC Lab.) Co-founder of The Renovationists, recent work including Boxcar (The Tank;) Three Seconds (Barn Arts Collective;) and upcoming: Old Names for Wildflowers (The Tank.) Off-Broadway & regional assisting includes: TFANA, Atlantic, Rattlestick, Oregon Shakespeare Festival, Colorado Shakespeare Festival. SDC Associate Member. www.emmawent.com
Friday, February 23, 2018 at 7:30pm
General Admission
$15 in advance
$18 at the door
Stu./Sen./idNYC
$12 in advance
$15 at the door
Estimated Runtime
45 minutes
share £
Credits
Directed by
Emma Rosa Went
Created by & starring
Olivia Rose Barresi & Julia Larsen
Links