Necessary I.T.E.M.S. Project

The (Last) Station

Irina Abraham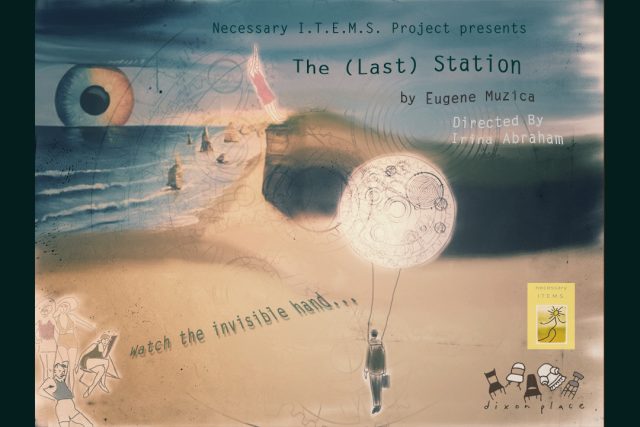 About This Show
Six Characters find themselves at a resort. While it seems that the guests of the resort are there to have a good time, they are constantly intimidated by Mr. Tenant – the owner, whose menacing presence reminds them that the resort might be something else entirely: from a mental asylum, a homeless shelter to Hell itself.
about the artists
Eugene Muzica (writer) is a professor of Composition and Literature. He earned his Master's and PhD in English at the University of Warwick, UK, specializing in tragedy (specifically Shakespeare's Hamlet, Sophocles's Oedipus) and psychoanalysis. Eugene published an essay on Thomas Kyd's "The Spanish Tragedy" in the collection Doing Kyd by Nicoleta Cinpoes. This is his first collaboration with theatre artists.
Tim Abraham-artist, set designer. Tim is a French American artist. His recent work is a mixed media project Masks, which Tim is doing in collaboration with two photographers. Tim has exhibited his work in solo and group shows in Jersey City and Monclair, NJ. Tim's debut as a set designer was with Necessary I.T.E.M.S. Project's Flight Number Love in 2016. www.timtasticart.com
Irina Abraham-director, choreographer. Originally from Belarus, Irina started her theatre career by travelling Europe with Experimental Youth Theater and dance companies. In 2007 Irina came to NYC and studied at HB Studio. In 2010 she directed her first show Playgrounded. From 2010 to 2014 Irina worked as a choreographer and actor with such companies as the Russian Arts Theater & Studio, Nylon Fusion Theater Company, Yangtze Repertory Theater of America, the Bedlam Ensemble, etc. In 2014 Irina co-founded Necessary I.T.E.M.S. Project and co-directed Requiem by Hanoch Levin and Flight Number Love. In 2016 Irina also joined Blessed Unrest Theatre Company as an actor.
Friday, April 7 at 7:30pm
General Admission
$15 in advance
$18 at the door
Stu./Sen./idNYC
$12
Estimated Runtime
80 minutes
share £
Credits
Written by
Eugene Muzica
Directed and choreographed by
Irina Abraham
Set design by
Tim (Tastic)
Cast
Kellen Lopes (as Minnie)
Danijela Popovic (as Claire)
R.P. Turner (as Bonanza)
Natalie Solomon (as Debbs)
Genia Starcev (as George)
Michael Donaldson (as The Voice of Mr. Tenant)
Links