Following a performance by Nathaniel Sullivan

The Council on Gender Sensitivity and Behavioral Awareness in World of Warcraft: LIVE

Performed by Angela Washko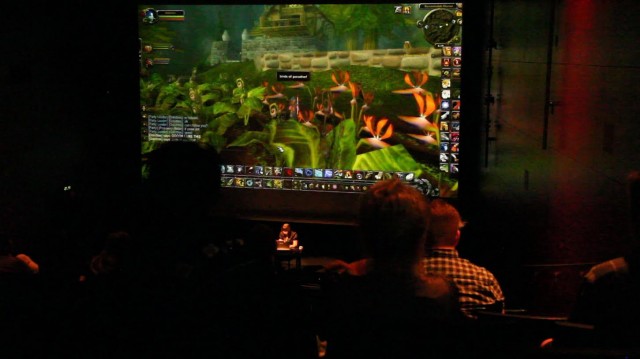 About This Show
Introduction performance:
Good Morning to My Inbox, My Penis, My Impending Demise
by Nathaniel Sullivan
estimated runtime: 10 minutes
For three years, Angela Washko has been creating performances as The Council on Gender Sensitivity and Behavioral Awareness in World of Warcraft inside the most popular multiplayer online video game of all time. Instead of killing enemies and getting badass equipment like she used to, she started traveling to major towns to discuss the ways in which women are treated in the game-space with other players. This most recent evolution of the project includes additionally recruited council members and audience participation – as three players-turned-performers (Washko with Maj Anya DeBear and David Lublin) discuss feminism with players and audience members situated simultaneously in Dixon Place, New York and Orgrimmar, Area 52.
The event will feature an opening performance by artist Nathaniel Sullivan. Good Morning to My Inbox, My Penis, My Impending Demise is a multi-media performance about a day when Sullivan received a flurry of penis enhancement emails at work that called out his deepest and darkest fears. The story mashes up corporate verbiage with carnal desire, peels back the layer of saccharine pop to reveal the heart of darkness in the music of The Beach Boys, and calls him out on his frequent missteps in his journey to define masculinity.
"This work was made possible, in part, by the Franklin Furnace Fund supported by Jerome Foundation; the Lambent Foundation, The SHS Foundation, and by public funds from the New York City Department of Cultural Affairs in partnership with the City Council."
About the Artists
Angela Washko is a performance artist creating new forums for discussions of feminism where they do not exist. In 2012,Washko founded The Council on Gender Sensitivity and Behavioral Awareness in World of Warcraft as an ongoing intervention on communal language formation inside the game. A recent recipient of The Franklin Furnace Performance Fund Grant, a Rhizome Internet Art Microgrant, a Danish International Visiting Artist Grant and the Terminal Award, Washko's practice has been highlighted by Creative Time, Time Magazine, The Guardian (UK), ARTnews, VICE, Hyperallergic, Rhizome, the New York Times, The Creator's Project and more.  Her projects have been presented at Kiasma Museum of Contemporary Art (Helsinki, Finland), Moving Image Art Fair (London and NYC), the Rotterdam International Film Festival, Institute for Contemporary Art Boston and Foundation Vasarely (Aix-en-Provence, France) to name a few.
Nathaniel Sullivan builds narratives that weave a patchwork of historical fact, rumor and personal subjectivity, that in the end, build an imagined history. He has performed multi-media lectures on subjects as varied as former French president Francois Mitterrand's last meal, basketball legend Wilt Chamberlain's sex life, and the love letters of super-banker Jamie Dimon. Nathaniel Sullivan was a recipient of the special mention prize at the Montreal Film Festival in 2006, a festival prize at the FilmWinter in Stuttgart, Germany and an audience award at The Carnegie Museum of Art in Pittsburgh, Pennsylvania.
Wednesday, January 7, 7:30pm
Estimated Runtime
100 minutes
share £
Credits
Performed by 
Angela Washko
with Guest Performers
Maj Anya DeBear and David Lublin & The Council on Gender Sensitivity and Behavioral Awareness in World of Warcraft
Photo Credit
Alex Young
Links