The Bench: A Homeless Love Story
Galinsky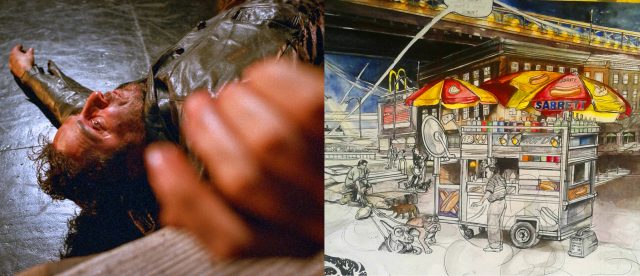 About This Show
"The Bench", set in urban decay and rubble, explores the emotional heartbreak of five homeless characters and the catastrophic hysteria surrounding AIDs in the 1980's. The sparse set is spectacularly integrated with beautiful graphic novel art projections, from Daphne Arthur's adaptation of the play, and is scored live by world re-known composer and multi-instrumentalist Deep Singh. Audiences will also be treated to delicious Valentine's Day sweets, before and after the show, provided by Chef Danielle. "Galinsky effortlessly assumes the bodies and voices of his characters, instantly transforming from one to the next from monologue to dialogue — it is really quite extraordinary. " (Backstage) It's a unique and fresh blending of solo theatre, with the Japanese Benshi storytelling, and graphic novelization.
about the artists
BackStage has called ROBERT GALINSKY's acting "extraordinary & effortless" while High Times Magazine says Galinsky is "manic, deadpan & takes aim with psychotic precision." Galinsky is a contributing writer to The Fresh Toast, is Head Speaker Coach for TEDxTeen, TEDxFultonStreet, and teaches writing and performance at Rikers Island Jail, through the non-profit Literacy for Incarcerated Teens and GalinskyCoaching.com. His work as an artist activist has been featured in The New York Times, Wall Street Journal, New York Magazine, and on The VIEW, NPR, ABC Nightline News and many media outlets. More at http://www.galinskyplace.com.
DEEP SINGH has been steeped in music since the age of three and Singh's versatility as a performer, composer, producer and engineer has given him a unique place in the music industry resulting in some very innovative collaboration's with leading artists from the East and West. Singh has composed music for the prime minister of India ("Anthem of US"), as well as for Broadway musicals and has worked on various projects with Carnegie Hall and Lincoln Center. In "The Bench", Singh continues his collaboration with Galinsky and blends pre-recorded score with live improvisation.
Daphne Arthur received an MFA from Yale in 2009 and a BFA from the School of the Art Institute of Chicago in 2007. Solo exhibitions include: RARE gallery in NY and the University of Massachusetts Boston and group exhibitions nationally and internationally at the Honfleur Gallery in DC, City College of NY, The Nathan Cummings Foundation, Laviolabank Gallery, Marvelli Gallery, Rush Arts Gallery, Arena 1 in Santa Monica, California African American Museum in LA, Land of Tomorrow in Louisville, Mexic-Arte Museum, 59 Rivoli gallery in Paris and Florence Biennale VIII in Italy.
Chef Danielle (Chef and Valentine's Day Muse of the Sweets) was born and raised in Brooklyn where she currently resides and runs her business. Her dishes are Southern infused tapping into her South Carolina roots. Her company named after her Grandmother Annie Mae who's humble beginnings started in South Carolina. Annie Mae passed on her passion for food to her daughter Ethel who was a caterer and she in turned passed it onto her 6 children, 3 whom are chef's.  Although her first love is baking she currently has incorporated food into her menu giving her clients a complete package. Following her Grandmother's advice of making sure that no matter what she prepares she adds LOVE to each and every dish
David A. Johnson (Graphic Design) Before it was a Major in college, 3d design became a passion of David's and he's been honing his skill as a 3d graphic designer, Technical Director and Animator ever since. David has worked with some of the biggest names in the industry and continues to do so today. Because he follows the fast growing market of 3d and 3d related technologies, he continues to push his unique understanding of these disciplines. David brings an unparalleled level of technical and design understanding to every project he works on.
Tuesday, February 14 at 7:30pm
General Admission
$15 in advance
$18 at the door
Stu./Sen./idNYC
$12
Estimated Runtime
50 minutes
share £
Credits
Written and Performed by
Galinsky
Live Musical Score Composed and Performed by
Deep Singh
Graphic Novel Art by
Daphne Arthur
Valentine's Day sweets baked by
Chef Danielle
Graphic Design by
David A. Johnson
Photo credit
Moore-Arthur
Links