Somewhere In Between
Kate Yeager and Amelia French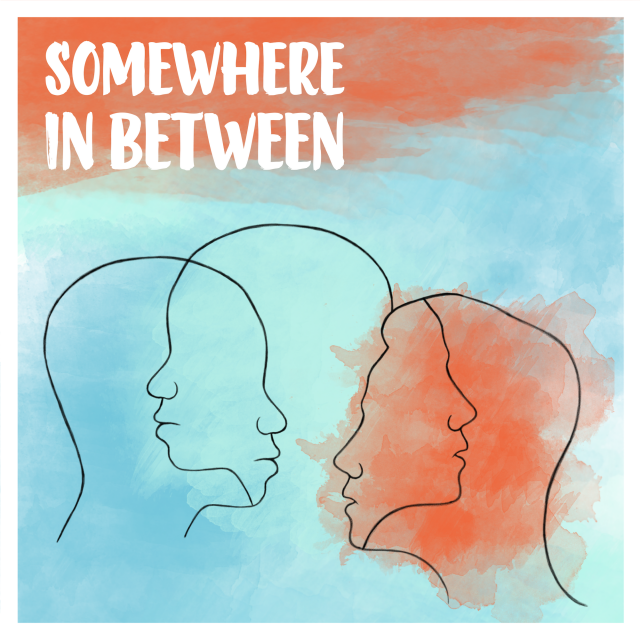 About This Show
This is a story of convergence. This is what happens when the mundane, the unimaginable, and the horrors of reality meet. We are living in a time in which society has encountered immense stress, destruction, failure, and hate. But we continue living. We continue to go about our everyday lives. We all have a story to tell within this overarching global narrative. These are the lives of five people facing the world, telling us their stories, trying to stay afloat amongst the chaos. Welcome to everyone's everyday.
about the artists
Amelia French (Book, Co-director) is a playwright pursuing her BFA at the Goldberg Department of Dramatic Writing at New York University's Tisch School of the Arts. Most recently, her work has been produced at the Jermyn Street Theatre in London, England, where she has been studying with the Royal Central School for Speech and Drama. She received the award for Best Screenplay at the 2016 Tisch 48 Hour Film Festival and is a member of the Dramatists Guild of America.
Kate Yeager (Composer + Lyricist, Co-director) is a singer/songwriter. She is a student of The Clive Davis Institute of Recorded Music at NYU Tisch. Kate is an Artist in Residence at New York's historic music venue, The Bitter End. She has also held solo shows at 54 Below and has been featured as a future songwriter of America at Lincoln Center. Kate is a Sofar Sounds Alum, has given a TEDx Talk and has recent played music while traveling overseas in Europe.
Sarah Flamm (Producer) is an independent producer of projects including (but not limited to) original musicals and site specific productions of classics. Recent credits include Ragtime on Ellis Island (Associate Producer), and Blueprint Specials (Digital Marketing and Audience Services) at the 2017 Under the Radar Festival. Sarah met Kate when producing her music as part of the 2015 NYMF Student Leadership Program concert, "Beyond Words," and produced the inaugural NYU cabaret of student written works, "Uncharted." Currently, Sarah works in Membership and Marketing at Theatre Communications Group.
Kerry Candeloro (Associate Producer) is a recent graduate of NYU Gallatin where she developed the concentration "Vocal Transformations: Speech as Identity in Theatre and Society." While in college, she honed her producing skills both on and off campus, mounting shows as a part of Gallatin Theatre Troupe as well as bringing original work to the greater New York area via Manhattan Repertory Theatre and the New York International Fringe Festival. Currently, Kerry is a freelance dialect/voice coach working around the city.
Tuesday, February 28 at 7:30pm
General Admission
$15 in advance
$18 at the door
Stu./Sen./idNYC
$12
Estimated Runtime
60 minutes
share £
Credits
Music and Lyrics by
Kate Yeager
Book by
Amelia French
Directed by
Kate Yeager, Amelia French
Devised by
Kuhoo Verma, Marina Pires, Tia Ramos, Noah Rauchwerk, Mahayla Laurence
Music Supervisor/Orchestrator
David Rosenberg
Producer
Sarah Flamm
Associate Producers
Kerry Candeloro and Natalie Smith
Stage Manager
Angelina DeSocio
Photo credit
Mollie Charlotte Suss
Links