She Was a Great Dad
Susan Jeremy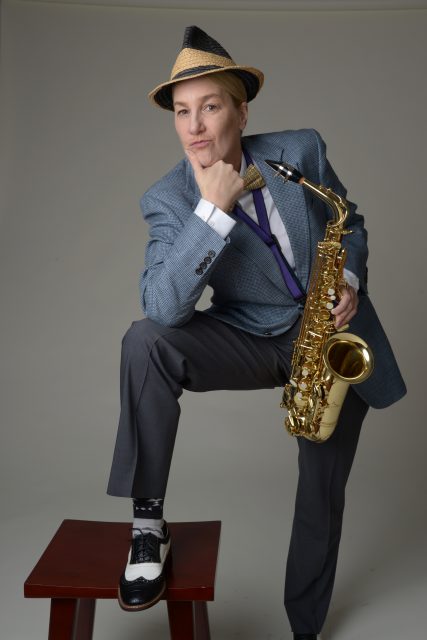 About This Show
She was a Great Dad is a jazz infused tale of love and secrecy inspired by the life of transgender Billy Tipton, who was born a woman and lived and performed as a man in the 1950's. Susan Jeremy plays all the characters from Saxophone playing Johnny Swinton to his burlesque dancing wife. You will decide if Johnny led a truthful life.
about the artists
SUSAN JEREMY (Performer/writer), is a solo artist known for her comedic characterizations and dry wit. This is Susan's Sixth one woman, multi character show and her first written without the help of her longtime collaborator and director, the fabulous and talented, Mary Fulham, who now is the managing director of La MaMa ETC. Susan's previous shows, Teacher in the House (2013) about surviving cancer and teaching home-bound kids toured for 3 years to critical acclaim and was featured in the Piccolo Spoleto Festival. Her most noted show, P.S. 69  (2000), in which she played 24 characters in a Brooklyn elementary school, and Was That My 15 Minutes?(1998), about her quest for fame and her mambo dancing dad. Both won Montreal's Just for Laughs Best Comedy award. P.S. 69 toured the USA and Canada, was a smash hit at the 2003 Edinburgh Fringe Fest, and was noted as one of the best shows at the 25th anniversary of the Winnipeg Fringe 2010. Susan's third show, Moving in Reverse (2005), was about class culture. Brazil Nuts, about a lesbian couple's sham wedding for legal status, premiered at La MaMa in NYC in May 2010 for a three week run, was featured in the Dublin Theatre Arts Festival, and was nominated for an Innovated Theatre Award in New York.
Cheryl King (Director) is the creator and producing director of Stage Left Studio in NYC, was resident acting coach at All My Children from 2007-2010, and is a playwright, director and actor. Her first solo show not a nice girl was produced in LA, NYC, Chicago and Ft. Collins, CO. She teaches playwriting, acting, standup comedy, and body language workshops, and has directed over 45 plays and solo shows, including Frank Blocker's Drama Desk-nominated Southern Gothic Novel.. Cheryl is a member of the Dramatist's Guild, and a board member of League of Independent Theatre, New York.
Saturday, July 22 at 10pm
General Admission
$15 in advance
$18 at the door
Stu./Sen./idNYC
$12
Estimated Runtime
54 minutes
share £
Credits
Directed by
Cheryl King
Sound Design by
Tim Shellenbaum
Photo credit
Sardie Klein
Links