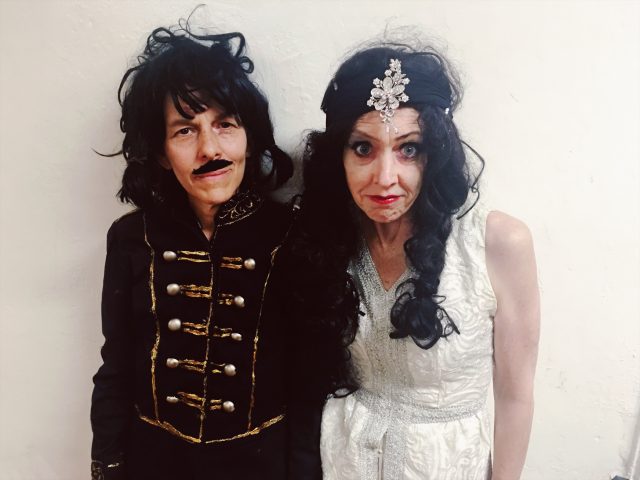 About This Show
A pretty ordinary white nationalist family falls into a muddy and desperate identity crisis when they are attacked by La Contaminación Cultural.  Their sense of language, grammar and origin gets altered, making them confused about who they really are.
about the artists
Born in Argentina, Susana Cook is a New York based performance artist who has been writing and producing original work for over 20 years. She has presented over 17 original plays in New York and around the world. Susana writes and directs all her shows and performs in them with her company. Her work is bold and funny, cleverly tackling racism, homophobia and fascism.   Her work has been presented in numerous performance spaces in New York City, including El Museo del Barrio, Dixon Place, BAAD: Bronx Academy of Arts and Dance, W.O.W Cafe Theater and The Kitchen. She also performed internationally in Spain, France, India, Argentina, Colombia, Ecuador, Canada. Some of her latest shows are: Non-Consensual Relationships with Ghosts, Conversations with Humans, We Are Caligula, The Funeral of the Cow, The Homophobes, The Fury of the Gods, Homeland Insecurities, The idiot King, The Values Horror Show, 100 Years of Attitude, Dykenstein, Hamletango, Prince of Butches, Gross National Product, Hot Tamale, Conga Guerrilla Forest, The Fraud, Butch Fashion Show in the Femme Auto Body Shop, Rats: The Fantasy of Extermination and Tango Lesbiango.
Julián Mesri is a New York-based Argentinean-American composer, director and playwright.  He has been primary composer/sound designer for Susana Cook since 2001.  Other companies he has composed for include INTAR Theater (Intringulis and American Jornalero), International WOW (Reconstruction, Auto da Fe) , and most recently the APAC production of Christina Quintana's Evensong.  He is the artistic director and founder of Sans Comedia, a bilingual theater company.  Recent work with the company includes The Red Play(Sanctuary Festival, HERE Arts Center), The Gauchos (Teatro Extranjero, Buenos Aires) and the musical Bethlehem (St Paul's Theater, BAX Space Grant), Lisa and Her Things (The OIT, INTAR Theater). He teaches Latin-American Theater at Pace University and is an instructor at School of Rock NYC.
Saturday, October 7, 2017 at 7:30pm
General Admission
$15 in advance
$18 at the door
Stu./Sen./idNYC
$12
Estimated Runtime
40 minutes
share £
Credits
Music by
Julian Mesri
Cast
Annie Lanzillotto, Salley May, Michael Burke, Kathie Horejsi, Hjordis Lynn, Moira Cutler, Mistah Coles, Simba Yangala, Susana Cook, Juan Reyna, Julia Cavagna, Alexandra Pinel, Rey Asher
Photo credit:
Topher Cusumano
Links