R A Í Z
Rafael Abolafia, Meira Goldberg, José Moreno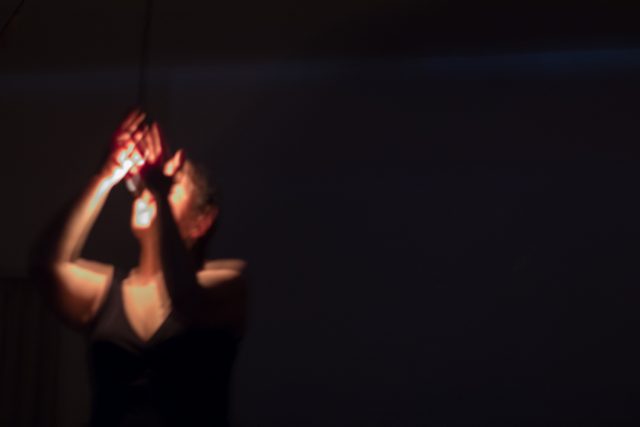 About This Show
R A Í Z seeks to create a ceremony of perforation and immersion in the rites of flamenco. The Crone embodies the strength of instability. She enacts rejection and rebellion, memory and faith, feasting and solitude. Her pilgrimage maps a homeland containing many forces in tension. The piece features a stage where traces of nature and industry become alive. We wish to generate a contemporary quejío, to open spaces and sensations where our wings may find ground and our roots take flight.
about the artists
Rafael Abolafia holds MA-PhD Studies in English Philology (1996-2002). He was a Visiting Scholar at Performance Studies (NYU) and an Affiliated Fellow at Hemispheric Institute of Performance & Politics (2008-2009). He worked as the Direction Assistant at Centro Andaluz de Teatro (2005-2012). He has imparted lessons at Queen Sofia Spanish Institute (2013-2014), Instituto Cervantes (2014-2017), UNIS (2017) and collaborated as a Visiting Scholar and Publication Assistant at Martin E. Segal Theatre Center-CUNY (2016-2017). Among his latest creations as a theatre director, The Last Call was awarded with Best Lighting Design and Best Actor at United Solo Festival NYC 2015.
Meira Goldberg is widely recognized as a master performer, teacher, and flamenco scholar. She has performed in Spain with many of the greats, such as Antonio Canales, Arturo Pavón, Diego Carrasco, and Ramón El Portugués, and in the US has been first dancer with Carlota Santana, Fred Darsow, and Pasión y Arte. She has been awarded choreography grants (Pew Charitable Trusts, American Dance Festival, NY State Council on the Arts), and has choreographed several award-winning opera productions. She co-curated 100 Years of Flamenco in NYC (NYC Public Library for the Performing Arts, 2013), co-edited Flamenco on the Global Stage (McFarland, 2015), The Global Reach of the Fandango in Music, Song and Dance (2016), and Transatlantic Malagueñas and Zapateados in Music, Song, and Dance (forthcoming, 2018). She teaches at FIT and is a Visiting Scholar at the Foundation for Iberian Music (CUNY). Her monograph Sonidos Negros: On the Blackness of Flamenco is forthcoming (2018) from Oxford University Press.
José Moreno has been invited to perform in various companies and with distinguished artists such as: Pastora Galván, Pedro Cortés, Omayra Amaya, Jesús Montoya, Amparo Heredia, Adrián Galia, Belén Maya, Chano Domínguez, Jorge Pardo, among many others. José has choreographed & performed with the New World Symphony Orchestra (2001) and the Boston Flamenco Ballet (2004) at Lincoln Theater. He has performed as well at Carnegie Hall (2010), Alliance Theatre (Zorro, The Musical, 2013), BAM (with Flamenco Vivo, 2013), The Metropolitan Opera NYC (2014-2017) and The Kennedy Center/Washington National Opera (2015-2016) (Carmen), The Chicago Sinfonietta in the Ravinia Festival (2016), etc.
Saturday, May 12, 2018 at 7:30pm
General Admission
$15 in advance
$18 at the door
Stu./Sen./idNYC
$12 in advance
$15 at the door
Estimated Runtime
55 minutes
share £
Credits
Dance by
Meira Goldberg
Music by
José Moreno
Direction by
Rafael Abolafia
Photo credit:
David Whitmer
Links