In the lounge

Queerly Single in a Chaotic Universe

Jennifer Joy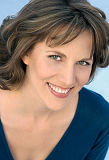 About This Show
Jennifer Joy queers science in order to make sense of these times and her own single status. She grapples with the fact that her family voted for Trump… which, unexpectedly, suddenly gives her leverage over them. She also explores her life as a single person, and wonders how her life would've been different, had events in her early life been different.  Chaos theory meets art in this comedic response to these times.
about the artists
Jennifer Joy is a queer performer/writer/director. She's toured her solo show, The Physics of Love, to performance venues and colleges all over the country including Scripps College and Highways (LA); Alfred College (NY); Emerging Artists' Theatre and Laurie Beechman Theatre (NYC); The Marsh (SF) and many more. She's also done standup at comedy clubs in NYC and SF. She's also the Artistic Director of the multicultural eco-performance troupe, The SciArt6.  They devise performances, such as queer puppet shows on food justice, a dance/poetry piece on the ecological history of Manhattan, and a "voicestra" following the history of life on earth.
Paul Leopold is a multimedia artist. Recently, Paul designed video projections for Inside the Wild Heart, an immersive dance-theatre production with 16 screens. Paul's interactive video installations have been featured at Chasm, Premonitions and Bang On. Paul also performs as BoyWolf at clubs, theatres and festivals such as LaMama, Leslie Loman, Joe's Pub, MIX, Bushwig and The Club in Berlin, where they recently had a residency. BoyWolf explores themes of sustainability and power through cyborgian rituals that mix video, movement and music. Paul holds an MFA in Performance and Interactive Media Arts from Brooklyn College.
Miriam Eusebio's work has been seen in New York and beyond, including at Dixon Place, with Sharon Jane Smith's The Mysteries of Monet Berzoff.  Other work includes the acclaimed Truth Values: One Girl's Romp Through MIT's Male Math Maze written and performed by Gioia DeCari, touring since 2009, and Happy Days by Samuel Beckett at Wow Cafe Theater.  This August she is directing a reading of Illegal Helpers by Maxi Obexer, translated by Neil Blackadder, for Voyage Theater Company.
Monday, July 10 at 7:30pm
Estimated Runtime
45 minutues
share £
Credits
Directed by
Miriam Eusebio
Written & Performed by
Jennifer Joy
Multimedia design by
Paul Leopold
Links