PEN World Voices Festival of International Literature

PUSHING PAST GLASS CEILINGS

Valerie Graves, Rita Mae Brown, Giannina Braschi & Theresa Rebeck. Moderated by Amy Siskind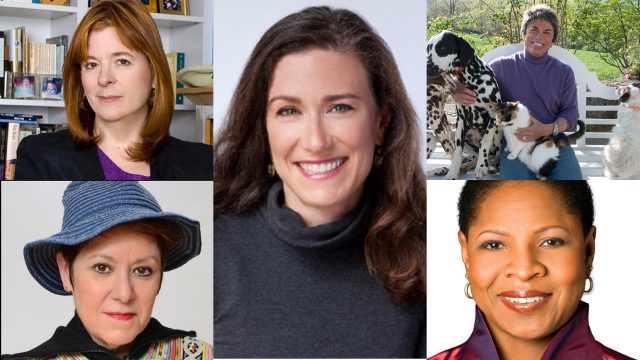 About This Show
Pioneers in the fields of theater, music, finance and advertising discuss new methods of fighting inequality. With Valerie Graves, Rita Mae Brown, Giannina Braschi and Theresa Rebeck. Moderated by Amy Siskind.
about the panalists
Amy Siskind is a national spokesperson, writer and expert on helping women advance and succeed. A highly successful Wall Street executive, she's Co-founder and President of The New Agenda, a national organization working on issues including economic independence and advancement, gender representation and bias, and campus sexual assault. In the Trump era, Amy authors "The Weekly Authoritarianism List."
Theresa Rebeck is a widely produced playwright throughout the United States and abroad. Her newest work, Poor Behavior premiered at the Mark Taper Forum in Los Angeles in 2011. She is the author of two novels. In television, Ms. Rebeck has written for Dream On, Brooklyn Bridge, L.A. Law, American Dreamer, Maximum Bob, First Wave, and Third Watch. Ms. Rebeck has taught at Brandeis University and Columbia University. She lives in Brooklyn with her husband and two children.
Giannina Braschi, one of the most revolutionary voices in Latin America today, writes in Spanish, Spanglish, and English. Her work explores the enculturation process of millions of Hispanic immigrants to the USA and dramatizes the three political options of her native Puerto Rico — nation, colony, or state. Her books include Empire of Dreams, Yo-Yo Boing!, and United States of Banana.
Rita Mae Brown is the bestselling author of the Sneaky Pie Brown series, the Sister Jane series, the Runnymede novels, and 56 other books. An Emmy-nominated screenwriter and poet, Brown lives in Afton, Virginia. Brown's latest book, A Hiss Before Dying: A Mrs. Murphy Mystery
Valerie Graves, named one of Advertising Age's 100 Best and Brightest, is a nationally-recognized creative director of various Fortune 500 accounts such as Ford, General Motors, AT&T, and Pepsi. Graves broke barriers in the advertising industry as one of the first black copywriters at BBDO, Kenyon & Eckhardt, and JWT. Pressure Makes Diamonds is her memoir.
Wednesday, May 3 at 7pm
Estimated Runtime
90 minutes
share £
Credits
Photo credit:
John Clifford (for Giannina)
Mary Motley Kalegris (for Rita)
Links