Piece by Piece
Rebeccah Simone Bogue & James Blaszko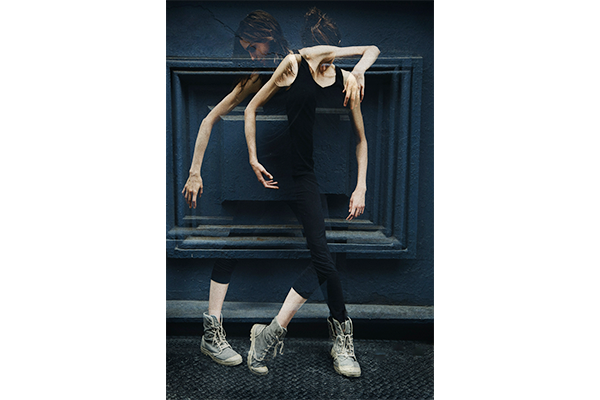 About This Show
Hello, World! I'm Rebeccah. I call myself a dancer. I mostly look like a dancer. But I don't entirely fit. My outline's all wrong. I'm too tall. I'm knock-kneed. I have a hole in the back of my head. But you can have my torso. It's perfect. And you can have my stories, too. Tonight I'll perform them for you from memory… almost. We may need some help along the way.
about the artists
Rebeccah Simone Bogue (Performer/Writer) trained in ballet at Boulder Ballet in Colorado until she was seventeen.  When she was in her final semester, her brain hemorrhaged from an undetected birth defect called an 'arteriovenous malformation' (AVM). Since moving to New York in 2008, Bec has choreographed eleven ballets–the most recent, a tes souhaits, debuted at the Alvin Ailey Studio Theater. Today, though the doctors have no explanations, Bec is losing her balance, speech, vision and motor-skills.  But she still believes that dance is joyous and she strives to convey this in her choreography.
James Blaszko (Director/Adapter) creates amplified live experiences in prosceniums, junkyards, abandoned churches, nightclubs, apple orchards, and other spaces. A first-generation American raised in a Polish-Pakistani household, James' varied education in arts and culture has deeply influenced his multidisciplinary interest and approach as a director. His site responsive production of An Iliad incorporates drone technology and will travel to Zimbabwe as part of the Harare International Festival of the Arts in 2018. He has assisted in opera houses across the country and will stage Puccini's Il Trittico in Daegu, South Korea this fall.
Thursday, September 28 at 7:30pm
General Admission
$15 in advance
$18 at the door
Stu./Sen./idNYC
$12
Estimated Runtime
70 minutes
share £
Credits
Text by
Rebeccah Simone Bogue
Direction by
James Blaszko
Photo credit:
Rachel Lindsay