Piece by Piece Written & Performed by Rebeccah Simone Bogue
Directed by James Blaszko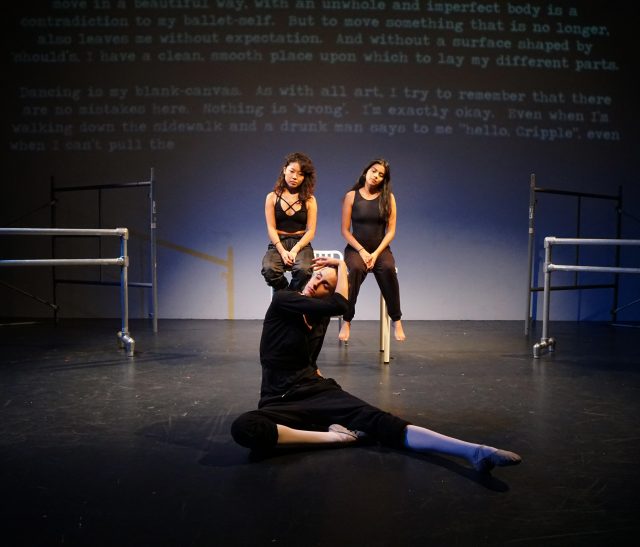 About This Show
A witty mosaic of memories drawn from a ballerina before and after her brain hemorrhage. Rebeccah Bogue stars in this unapologetic new work that embraces the many identities we collect in our lifetime.
"Hello, World! I call myself a dancer. I mostly look like a dancer. But I don't entirely fit. My outline's all wrong. I'm too tall. I'm knock-kneed. I have a hole in the back of my head. But you can have my torso. It's perfect. And you can have my stories, too. Tonight I'll perform them for you from memory…almost. We may need some help along the way."
about the artists
Rebeccah Simone Bogue (Performer/Writer) trained in ballet at Boulder Ballet in Colorado until she was seventeen.  When she was in her final semester, her brain hemorrhaged from an undetected birth defect called an 'arteriovenous malformation' (AVM). Since moving to New York in 2008, Bec has choreographed eleven ballets–the most recent, "a tes souhaits", debuted at the Alvin Ailey Studio Theater.
James Blaszko (Director/Adapter) creates amplified live experiences in prosceniums, junkyards, abandoned churches, nightclubs, apple orchards, and other spaces. He recently directed Puccini's Il Trittico in Daegu, South Korea and has been invited to tour his site-responsive production of An Iliad to Zimbabwe as part of the Harare International Festival of the Arts in 2018. www.jamesblaszko.com
Thursday - Saturday, February 15 - 17, 2018 at 7:30pm
General Admission
$15 in advance
$20 at the door
Stu./Sen./idNYC
$12 in advance
$15 at the door
share £