[ph][f]reaking
Critical Point Theatre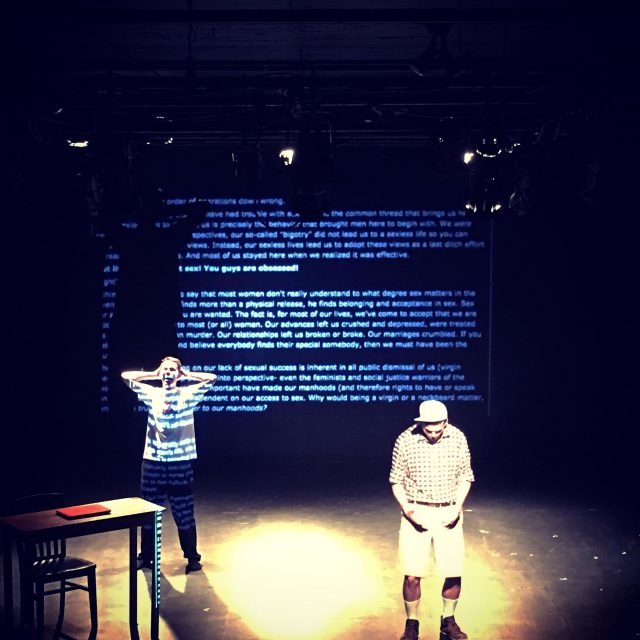 About This Show
In an age of unlimited power via keyboard and conflicting models of masculinity presented online, Joe doesn't know how to assert himself in the world (Wide Web). Dumped by his girlfriend and feeling low, he turns to the Internet for guidance, advice, and video tutorials in order to crack the code of becoming desirable. Digital decisions dent the development of Joe's worldview, bringing him closer to making irrevocable choices IRL. When 'Revenge of the Nerds' meets the cautionary tale of Icarus, a youthful thirst for knowledge, connections, and intimacy turn to suffering.
About the Artists
Julia Katz is a theatre artist most interested in grassroots ensemble performance working in the mid-Atlantic. She is a Towson University MFA Theatre student and the Center for International Theatre Development (CITD) Fellow. In 2013, Julia founded Critical Point Theatre for the purpose of creating ensemble-based theatrical work that advances a twofold mission of transmedia storytelling and democratic critical process. Currently: <ph><f>reaking, developmental support from the Network of Ensemble Theaters and the FURYFactory Festival of Ensemble and Devised Theater; The Marcellus Shale Project, assisting the Talking Band on a unique local/national tour, recipient of a TCG Audience (R)Evolution grant.
Dylan James Amick is a theatre maker from southwest Virginia. Dylan works full time with the electrics department at the Juilliard School, and continues to freelance as a designer and director. Recent: Jamie and Duncan's Glorious Suicide at the End of the World (Director, Capital Fringe Festival 2016), <ph><f>reaking (FURYfactory Festival of Ensemble and Devised Theater, 2016). Upcoming: JERK (OR, The Stimulation of Self) (Critical Point Theatre, 2017). Dylan is also show runner and Executive Producer of the award-winning podcast series The Grayscale. He also serves as the Artistic Associate of Critical Point Theatre.
Saturday, January 21 at 10:00pm
General Admission
$15 in advance
$18 at the door
Students / Seniors / idNYC
$12
Estimated Runtime
50 minutes
share £
Credits
Written by Dylan James Amick, Julia Katz, and the Critical Point Theatre ensemble
Directed by Julia Katz
Stage Managed by Will Jennings
Sound Design by Jackie Mullen
Video Design by Chelsea Rugg
With Andrew Terrance Kaberline as Joe
Photo Credit: Julia Katz
Links