person[ing] ~PLUS~ Office of Illegals: Dream On
The Organism that Persons ~PLUS~ Ten Directions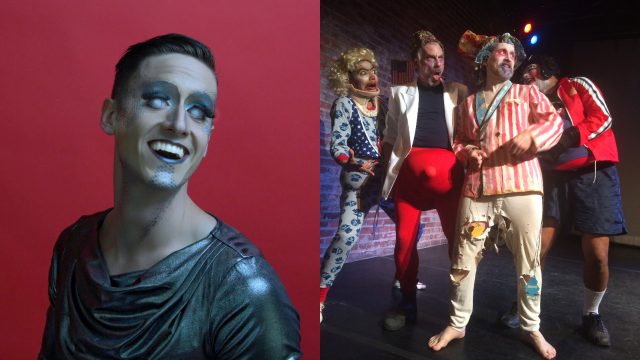 person[ing]
Using borrowed text, song, & movement, The Organism that Persons (The OtP) seeks to create new worlds from old ones and offer new perspectives on what it means to be a person. This first installation of person[ing] borrows from the 1971 documentary A Lady Called Camille, the book 'Architectural Body' (Gins & Arkawa), and musical samplings from Depression-era tunes to Lana Del Rey. The OtP draws from classical & postmodern dance, Buffon (clown), vocal arts, & drag performance.
Devised & Performed by: The Organism that Persons (the OtP)
Projections: Jake Nathanson, Jordan Ross, Chris Rehmann
Creative Consultant: TBA
The Organism that Persons (OtP) is a persona of Chris Rehmann, Brooklyn-based artist & educator. Originally from Mississippi, Chris studied in the Experimental Theatre Wing at NYU's Tisch School of the Arts. Since graduating Chris has performed at La MaMa, Dixon Place, The New York International Fringe Festival / The C.O.W., Daniel's Spectrum (Toronto), & Pig Iron. More at crehmann.com.
Office of Illegals: Dream On
Dream on, Bad Hombres! You're about to have your door kicked in. Beware, illegal people! Imperial orders have been signed and you're about to be extremely vetted. The creators of Bouffon Glass Menajoree and a cast of misfits ridicule the road to citizenship in Office of Illegals. Immigration just got freaky.
Featuring Lynn Berg*, Audrey Crabtree, Jack Elias, Karen Elias, Roy Koshy, Clara Francesa, Timothy McCown Reynolds*, Toni Ann DeNoble, and Megan Burke.
*Actors appearing courtesy of Actors' Equity Association

Ten Directions is a theatre and film production collaborative founded by Lynn Berg and Audrey Crabtree, focusing on original work. Their works includes Saint Arlecchino (Lucille Lortel Theater), Without Regret, Deenie Nast (Joe's Pub, Bowery Poetry Club, The PIT, UCB), Deck The Hallmans! (Brick Theater) and the award-winning, internationally-acclaimed Bouffon Glass Menajoree (Brick Theater).  Ten Directions received an NYIT Award for Bouffon Glass Menajoree, and was also nominated for the Dublin Fringe Festival's Spirit of the Fringe Award.
Wednesday, January 17, 2018 at 7:30pm
General Admission
$15 in advance
$18 at the door
Stu./Sen./idNYC
$12 in advance
$15 at the door
Estimated Runtime
55 minutes
share £
Credits
Photo credits
Adam Stanford (for person[ing]), Robert Honeywell (for Office of Illegals: Dream On)
Links