On The Other Side Of The Fence ~PLUS~Portrait of Diana, Princess of Wales; Study No. 2
Maiko Kikuchi ~PLUS~ Justin Perkins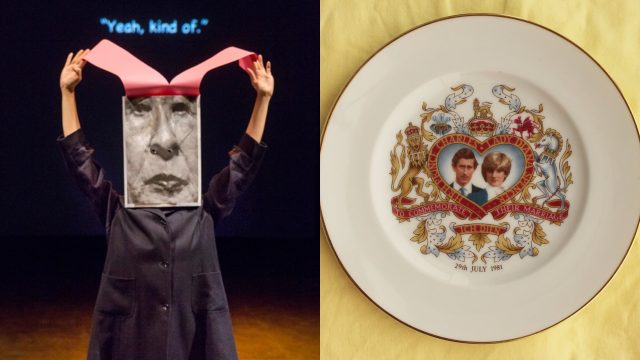 About The Show
ON THE OTHER SIDE OF THE FENCE
Created by  Maiko Kikuchi
Daydreams is lurking in your daily life and pops up somewhere close to you. That could be your closest station or coffee shop or on the other side of  the fence built between your home and your neighbour's back yard.
Portrait of Diana, Princess of Wales; Study No. 2
Directed by Justin Perkins
Diana, Princess of Wales was the world's most famous person. Stories and photos of her fueled industries and generated billions of dollars worldwide.  Her wedding, and sixteen years later her funeral, brought a city of millions to total standstill.
"Portrait of Diana, Princess of Wales" is a work of puppet theater about Diana, her life, and a world of people who couldn't stop looking at her.  It explores the reasons we turn people into celebrities and the ways we use their stories in our lives. Through object theater, dance and bunraku-style puppetry, "Portrait of Diana" depicts the producers and the consumers of the Diana mythology and poses questions about the value and the consequences of celebrity culture.
About the artists
Maiko Kikuchi created her first self-directed object theater piece, "Daydream Anthology" in 2013 followed by her second piece, "PINK BUNNY" the following year.  Both of these works were shown as part of "Labapalooza", a puppet festival held at St. Ann's Warehouse in Brooklyn.  "No Need for a Night Light on a Light Night Like Tonight", Kikuchi's third installation performance in 2015, was shown at La MaMa Experimental Theater. She has also performed as a puppeteer in Theodora Skipitare's performance show, "The Chairs" at the Whitney Museum, "Six Characters" at La MaMa Ellen Stewart Theatre.

Justin Perkins is a puppet performer and director. As puppeteer: Ping Chong + Company (Where the Sea Breaks its Back, forthcoming, also designer), David Neumann (Tough the Tough: REDUX), Tom Lee (Shank's Mare, LaMama; Sarasota FL), Lake Simons (Tree Pop, HERE. Carnival of the Animals, Miller Theater), Jeanette Oi-Suk Yew (Are They Edible, LaMama), Patti Bradshaw (Out of Nothing, HERE), Puppet Cinema (Planet Egg, HERE; Tel Aviv; D.C.; Honolulu), Unitards (Point Pleasant, Nordland Visual Theater), imnotlost (The Eye Show, Standard Toykraft) and more. As designer/builder: BAM (The Hard Nut promos), Basil Twist (Sisters' Follies, Nutcracker), Friends' Seminary's theater program, TheaterWorksUSA, NYMF, NYCTF, Swedish Cottage, Unitards.
Wednesday, January 11 at 7:30pm

General Admission
$15 in advance
$18 at the door
Students / Seniors / ID NYC
$12
Estimated Runtime
55 minutes
share £
Credits
ON THE OTHER SIDE OF THE FENCE
Director & Created by
Maiko Kikuchi  
Performed by
Maiko Kikuchi, Pepper Fajans, Yosuke Imai, Zac Pless   
Portrait of Diana, Princess of Wales; Study No. 2
Directed by
Justin Perkins
Sound designer
Ien Denio
Puppeteers
Sarah Plotikin, Ashley Winkfield, Kate Brehm
Photo credit
Richerd Termine (for ON THE OTHER SIDE OF THE FENCE – left)
Justin Perkins (for Portrait of Diana, Princess of Wales; Study No. 2 – right)

Links