ON 1 CONDITION: BLINDFOLD
Will Taylor (Producer), Ryan Daniel Beck (Co-Producer), Zoe Clayton (Associate Producer)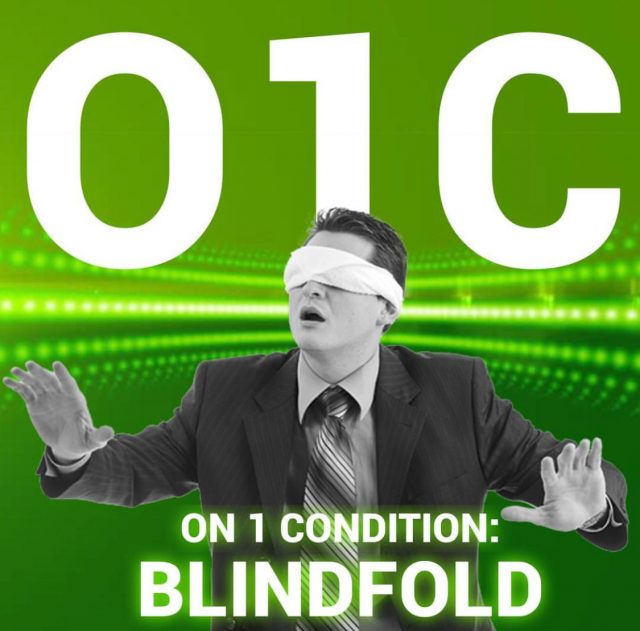 About This Show
New York's hottest incubator for new dance.  Choreographers ranging from experimental to commercial dance create new short works while following the same absurd rule.  For the May 3rd show, all choreographers must incorporate blindfolds into their dances.
about the producers
Will Taylor (Producer) is a director, choreographer, composer, and performer whose directing credits include Chickens In The Yard (Adjusted Realists), Burning Leaves (The Duke), Scapino! (Timber Lake), Rule of 7×7 (The Tank), Serials (The Flea), The Bend In The Tree (Gallery Players), Blogologues (The PIT).  Choreography credits include Restoration Comedy (The Flea), The Legend Of Georgia McBride (world premiere, Denver Center), Ultimate Man! (NYMF).  Will's performing career has spanned Broadway, film, TV, and concert.  www.willtaylorsite.com. @willitever
Ryan Daniel Beck (Co-Producer) is a visual art teacher working in the medium of dance, inspired by a varied background and training, ranging from modern, classical ballet, hip-hop and acrobatics. Ryan has done commercial dance work for Beyoncé, Black Eyed Peas, MOMIX, Daniel Ezralow, ESPN, MTV, Fuse TV, Mini Cooper, Givenchy, Microsoft, ABC, and Onion News Network, and danced commercially for the Mercedes Benz company in Frankfurt, Germany. He is on faculty at Broadway Dance Center in NYC.
Zoe Clayton (Associate Producer) is a multidisciplinary theatre artist.  She worked at The New Group on both Buried Child (Dir: Scott Elliott) and The Sensuality Party (Dir: Danya Taymor).  While there, she assisted playwright Sam Shepard on early iterations of his last work.  Her original puppetry and movement piece, Enfantine, premiered internationally at the 2015 Prague Quadrennial.  Directing credits: Unification (O1C at Dixon Place), Blink (O1C at Dixon Place), A Blue Brown Forest (Dixon Place), Infinite Canary (CMU), Gruesome Playground Injuries (CMU), Boxed In (Pittsburgh CAPA), Enfantine (2015 Prague Quadrennial) Carnegie Mellon University, BFA Directing.  www.zoeclayton.com
Thursday, May 3, 2018 at 7:30pm
General Admission
$17 in advance
$20 at the door
Stu./Sen./idNYC
$15
Estimated Runtime
60 minutes
share £
Credits
Choreographers:
Carlos Neto
Lauren Cox
Josh Walden
Zoe Clayton
Daniel Gold
Teddy Tedholm
Ryan Daniel Beck
Florian Fructuoso
James Beaudry
Mike Esperanza
Talia Putrino
Links