IN OUR GALLERY

Obvious Oblivious

Becky Brown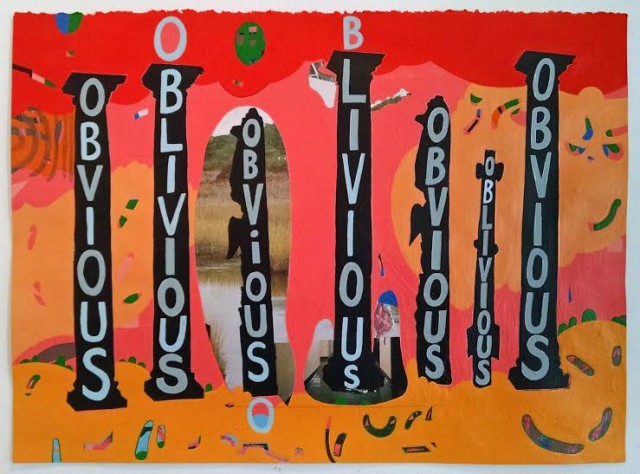 About This Show
Obvious Oblivious brings together new paintings & works on paper by Becky Brown. The title is drawn from Brown's interest in pairs of words that are formally similar but ambiguously related in their content: Obvious/Oblivious, Intimate/Infinite, Data/Dust.  The words become elements in pictorial compositions––abstract or representational––revealing connections that extend unexpectedly from form to content, by etymology or chance. Other works offer visual interpretations of Haiku by poet Jen Currin, part of Brown's long-standing series adapting pre-modern poetic forms to the 2D picture plane. Systems of rhythm and repetition become Concrete poetry, mixing up conventions of reading and looking. Text-based works are hung alongside works without text, reversing the perceptual/cognitive divide: text must be seen while it is read and images must be read while they are seen.

See Becky read as part of Experiments and Disorders on June 21.
About the Artist
Becky Brown is an artist & writer using found images, objects & texts.  She was born in Manhattan, moved to Brooklyn & currently lives in the Bronx.  Her work has been exhibited nationally and internationally at venues including The Drawing Center, NYC; Fort Gondo Complex for the Arts, St. Louis, MO; and Religare Arts Initiative, Delhi, India. She received her MFA from Hunter College and her BA from Brown University and has been an artist-in-residence at Yaddo, I-Park Foundation and the Edward Albee Foundation, among others.  Her art criticism is published in Art in America and the Brooklyn Rail.  This past fall, she and poet Jen Currin co-organized ''Headaches and Mysteries,'' a collaboration between five poets and visual artists exploring five poetic forms.
On View: May 31 - June 29
share £
Credits
Photo credit
Obvious Oblivious, 2016
Acrylic, collage and pencil on paper
11 x 15 inches
Links