nighthawks (an odyssey)
Jack Sullivan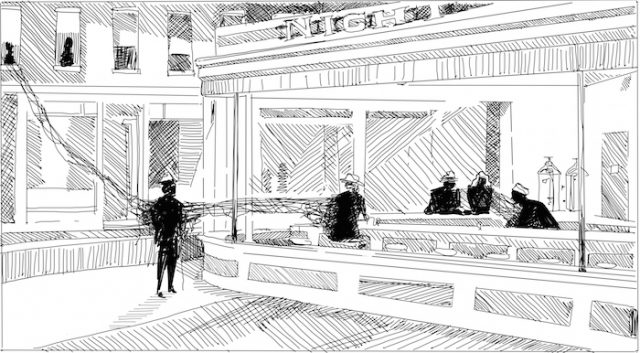 About This Show
Somebody remembers a lost lover.
Somebody searches for some food.
Somebody gets lost in the night.
Set over the course of one evening,
nighthawks (an odyssey) is an open performance text exploring urban alienation and city life under late capitalism. An Everyman figure wakes up from a troubled dream and wanders out to get some food. He finds his journey interrupted by a paranoid drug addict trying to get some sleep, an exhausted mother returning from an all-night job, and a young man stewing over a failed date.
about the artists
Jack Sullivan (Playwright) is a playwright, poet, and filmmaker based in Brooklyn. He has trained with and assisted at companies such as New York City Players, Young Jean Lee's Theater Company, and Anne Bogart's SITI Company. His play Women and Children was presented at Dixon Place Lounge in January 2015. He is currently studying to receive his M.F.A. in Screenwriting at Feirstein Graduate School for Cinema at Brooklyn College. Email: jsullivan1393@outlook.com;  Twitter: @jacksully1393
Nikolai Mishler (Director) is a Brooklyn-based director, songwriter, performer, and all around theater-maker. Recent directing includes 12th Night OR What You Will (The Brick), Women and Children (Dixon Place), and Oedipus on the Beach. He has developed work at Joe's Pub, The Brick, Abrons Arts, HERE, Dixon Place, Theater for the New City, Garner Arts Center, Stockholm Academy of Dramatic Arts, Skidmore, and NYU. Nikolai is also the frontman to the band And Lucky, whose music you can hear live or online soon. He has a BFA from NYU Tisch where he studied performance and direction at the Experimental Theater Wing.
Sam Schanwald translates performance ideas into tactile visual poetry. Past and ongoing collaborations include: Esperanza Spalding, Dane Terry, Erin Markey, Amy León, Culturebot, Gakko, and And Lucky. Sam has created and supported work at BAM, New York Theatre Workshop, Joe's Pub at The Public, Performance Space New York (PS122 COIL), AmericanAF Festival, and performs projected live drawings in music venues across NYC. Upcoming: Dinner with Georgette (NYTW), Twin Sized Beds (Loading Dock Theatre), Phantom Limb Company. samschanwald.com. @sam_max__.
Thursday, March 1, 2018 at 7:30pm
General Admission
$15 in advance
$18 at the door
Stu./Sen./idNYC
$12 in advance
$15 at the door
Estimated Runtime
45 minutes
share £
Credits
Directed by
Nikolai Mishler
Designed by
Sam Schanwald
Photo credit:
Sam Schanwald