Night Witches
Ground Rush Productions LLC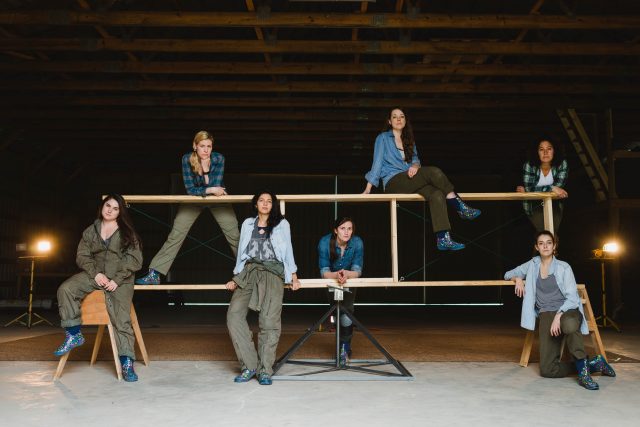 About This Show
The second installment of Night Witches, a new play. In the fall of 1941 after the Nazi Invasion of the Soviet Union, Marina Raskova, a Russian Amelia Earhart, formed three female aviation regiments to fight back. Of the three, the 588th Night Bomber Regiment was the only unit to remain exclusively female throughout the war. Made of up 112 girls ages 17-26, they flew for 3 1/2 years using repurposed cropdusting planes to drop bombs on Nazi forces below. Inspired from Anne Noggle's book, A Dance with Death, Night Witches weaves together a story of sisterhood, courage, and endurance, amidst a world war.
about the artists
Elena Kritter (Executive Producer/Actor) –  is a New York City-based actor, director, and personal trainer. Directing credits include: Carrying Helen (Cherry Lane Theatre); Overruled (Shiyr Productions); Becky Shaw (The Producer's Club). Noted acting credits: Victoria Woodhull (Theatre for New City); Welcome to the Doll Den (Electric Eye Ensemble); La Storia di Colapesce which toured in Sicily and the USA (Trinacria Theatre Company); The Drunken City (The Kraine Theater); As You Like It (Shakespeare on the Sound). Training: William Esper Studio (Meisner Training Program), BADA's Midsummer at Oxford, Maggie Flanigan Studio (Summer Intensive), BA in Theatre from Lynchburg College in Lynchburg, Virginia. www.elenakritter.com
Alida Rose Delaney (Associate Producer/Actor) – is an interdisciplinary artist in New York. Credits include: Skerry's (Christy Jones), Charles Mee's premiere of Soot and Spit (Kim Weild, New Ohio Theatre); Beth Morrison Projects premiere Ouroboros Trilogy (Michael Counts, Cutler Majestic Theater); The Clockwork Boy (NY Thespis Festival); NY premiere of The Fall (Jane Anfield, Fringe Encores). Film/TV credits: Cast Down, In A Sentimental Mood, Devour Me, The Knick, & Vinyl. Her artwork has been featured at the Queens Museum & the George Billis Gallery in NY. Alida was a recipient of the NYS Pavilion Competition (Queen's Winner), the Dr. Rene Fortin & George Farber awards. BFA, Dance, Marymount Manhattan College. www.alidarosedelaney.com
Kathleen Anne Hefferon (Director) –  is a NYC based Director & Dramaturg. Past NYC Productions include:Two Gentlemen of Verona (Fiasco Theater, TFANA); Midsummer Night's Dream (Classic Stage Company); Macbeth (Classic Stage Company); Hamlet (Waterwell Theater, Sheen Center); Songbird (59e59); The Road to Damascus (59e59); Fuck, Marry, Kill (Less Than Rent – workshop); Diva:Live From Hell (Theatre for the New City); Almost Home (The Director's Company), Bone (The Flea – workshop). NYU Gallatin, British American Drama Academy.
Thursday, October 26, 2017 at 7:30pm
General Admission
$15 in advance
$18 at the door
Stu./Sen./idNYC
$12
Estimated Runtime
120 minutes
share £
Credits
Directed by
Kathleen Anne Hefferon
Executive Producer
Elena Kritter
Associate Producer
Alida Rose Delaney
Co-Creators
Madeline Barr, Elizabeth Chahin, Josephine Cooper, Alida Rose Delaney, Alexis Ingram, Elena Kritter, and Maggie Ronck
Costume Design
Alida Rose Delaney
Graphic Design
Sean Devare, Tom Delaney, Suze Myers
Lighting Design & Puppeteer
Maggie Ronck
Musical Arrangement
Josephine Cooper
Photography
Stephanie Dougher
Script Supervisors
Madeline Barr, Elizabeth Chahin
Set Design
Gene Kritter
Assistant Set Designer
Alexis Ingram
Sound Design
Ernesto Baez
Links