In the lounge

New new new new

Featuring M. Henry Milks, Nina Boutskaris, & Paul Nadal. Curated by Christen Clifford.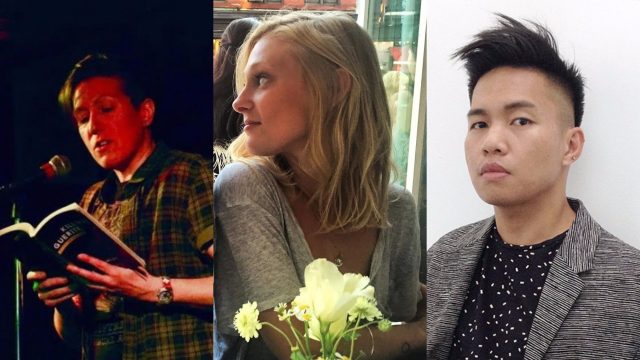 About This Show
The New School, First Year Writing Program at Eugene Lang College of Liberal Arts presents a reading of new work by faculty and students.
about the readers
Megan/M. Henry Milks is the author of Kill Marguerite and Other Stories, winner of the 2015 Devil's Kitchen Reading Award in Fiction and a Lambda Literary Award finalist, as well as three chapbooks, most recently The Feels, an exploration of fan fiction and affect published by Black Warrior Review. Their creative work has been published in Fence, Black Warrior Review, and many other journals. Their critical writing, for which they won a 2014 Critical Hit Award from Electric Lit, has been published in Los Angeles Book Review, The New Inquiry, and 4Columns, among other venues. Their work as editor includes The &NOW Awards 3: The Best Innovative Writing, 2011-2013 (Northwestern UP, 2015) and Asexualities: Feminist and Queer Perspectives (Routledge, 2014); currently, they edit the Fiction section of The Account.
Nina Boutsikaris earned her MFA in creative nonfiction at the University of Arizona and this fall she'll be an MA candidate in the CUNY Graduate Center's Liberal Studies program, where her research will focus on memoir, biography, gender, and sexuality. Recent honors include a Notable Essay in Best American Essays 2016, The Kenyon Review Writer's Workshop Peter Taylor Fellowship, and Redivider's 2015 Beacon Street Prize for Nonfiction. Find her work in Third Coast, Fourth Genre, The Los Angeles Review, The Offing, Redivider, Hobart, Brevity, and elsewhere. She lives in Brooklyn and teaches at Eugene Lang College and The Gotham Writers' Workshop.
Paul Nadal is Visiting Assistant Professor of First­-Year Writing at Eugene Lang, where he teaches essay writing on the topics of globalization and critical theories of finance. He is completing a dissertation at UC Berkeley under the direction of Colleen Lye and Judith Butler, titled "Remittance Fiction: Human Labor Export, Realism, and the Filipino Novel in English." Research for the dissertation has been awarded a fellowship from UC Berkeley's Institute of International Studies and a grant from the Joint Centre of History and Economics at Cambridge and Harvard University.
Monday, May 15 at 7:30pm
Estimated Runtime
50 minutes
share £