In our Gallery

Necessary Exposure: The Female Playwright Project

Jody Christopherson and Martha Goode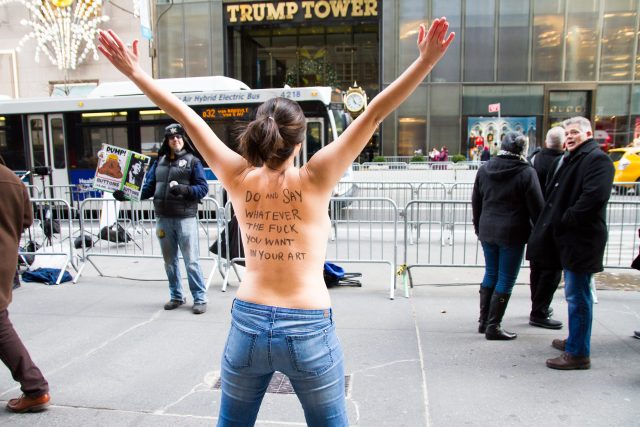 About This Exhibition
The third in a series, this installation explores what it means to be writing for the theater as a woman at this moment in history.

History, culture, change is made by those who control what is written about it and what access the public has to that information. Theater is an opportunity for many perspectives to connect with audiences to create change. Yet only 1/5 of the plays produced in America are written by female playwrights.

Necessary Exposure: The Female Playwright Project is a portrait and sound installation which seeks to bring visibility to playwrights who identify as female. Through portraits and podcasts we bring awareness to what remains to be widely seen and heard.

This is what a playwright looks like. I want you see them. When you seek plays to program, scripts to buy, curriculum to teach, I want you to remember.
Join us to celebrate the opening night of this installation on Wednesday, February 8.
About the Artists
Jody Christopherson is a performer, writer and photographer living in New York. As a generative artist she creates and performs interactive events within the context of theater, film/new media. Recent works include: Because You Are Good (2015 Innovative Theater Award Nominee), transcribed from interviews with Clove Galilee of Mabou Mines and the touring rock concert/ live indie film Greencard Wedding which has performed and had music presented in New York, New Orleans, Detroit, Florida, Lithuania, Berlin, Russia, Amsterdam, New Mexico and will be presented in March 2017 by The Studios of Key West.
Photo publications include: The New York Times, American Theater Magazine, Huffington Post, UMBC Magazine as well as on websites of many actors, directors, playwrights and theatre companies and business professionals. For more of Jody's photography work please visit: www.pfaphotonyc.com
Martha Goode has been working in NYC as a sound designer for the past 13 years.  She has worked in Indie Theater to create soundscapes for new works and with the New York City Children's Theater to bring stories to life Off-Broadway.  Some of her favorite designs include; Greencard Wedding, Young Charles Dickens, The Amazing Adventures of Harvey and the Princess, Ballerina Swan (New York City Children's Theater), The Rime (at The Virginia Arts Festival), I Sing the Rising Sea, Peter and the Starcatcher (Virginia Stage Company), Tribes, The Mountaintop, Slowgirl, Vanya and Sonia and Masha and Spike, Venus in Fur, Other Desert Cities, Good People, Time Stands Still, Boom, The Clean House, Photograph 51 (Vermont Stage Company), Anaïs Nin Goes to Hell, Costa Rehab, The Oath and Barrier Island (Manhattan Theatre Works), Don't Do Drugs!, Every Man (winner Samuel French Short Play Festival), To Barcelona! and Eli and Cheryl Jump (Ignited States).
On view February 7 - March 1
& March 6 - 8, 2017

share £
Credits
Photographer & Conceptual Artist
Jody Christopherson

Sound & Podcast Design
Martha Goode

Featured Playwrights
Casey Llewellyn, Kristine Haruna Lee, Sara Farrington, Kristen Palmer, Chisa Hutchinson, Juliana Francis-Kelly, Lisa Huberman, Ayesha Jordan, Amina Henry, Leah Nanako Winkler, Chiori Miyagawa, Sister Sylvester, helmed by Kathryn Hamilton, Cara Francis and Melody Bates

Pictured
playwright Leah Nanako Winkler
Photo credit
Jody Christopherson
Links