My Anxiety: A Work In Progress ~PLUS~ Psyche
William Doan ~PLUS~ Josephine Wilson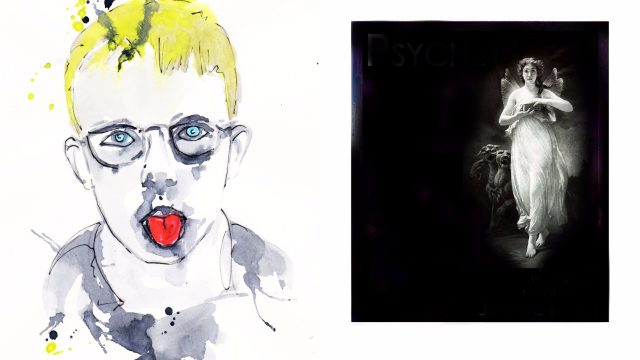 My Anxiety: A Work In Progress
I'm like a living comic book. I create drawings as receptacles for my anxiety; I get anxious that people won't get it, so I have to perform with the drawings to make sure my anxiety is properly represented. It's an endless cycle. And you get to watch it happen.
William Doan has created solo performance projects at a variety of venues across the U.S., and abroad. His current work includes a new play, Drifting, which received a workshop at Dixon Place Theatre in New York, March 2015, and three graphic narratives in the Annals of Internal Medicine/Graphic Medicine. Doan shared the earliest work from his Anxiety Project in the Dixon Place Lounge in November of 2016, titled A Brief Anatomy of My Anxiety.
Psyche
This performance features the Greek myth of Cupid and Psyche intertwined with a contemporary story of first love gone awry, all written in rhyming couplets and prose.The boundaries between both stories shift and disappear, revealing striking parallels relevant to the complexities of modern relationships.
Directed by Nathan Brewer
Josephine Wilson is a recent transplant to New York from the Berkshires, where she spent many years with Shakespeare & Co as an actor, education artist, and company member. She is a member of the Humanist Project in Brooklyn and teaches for New York Film Academy and Lincoln Center's nationally acclaimed Shakespeare program.  New York credits:  The Humanist Project's five-person Macbeth as Banquo, Lennox, Hecate and others, Titus Andronicus as Marcus.  Regional credits include: Annie in Table Manners (Mixed Company), Miss Jean Brodie in The Prime of Miss Jean Brodie (Pennsylvania Centre Stage) Lady Macbeth in Macbeth (Shakespeare & Company), and Nancy in Frozen (Pennsylvania State University).  Josephine holds her MFA in Acting from Pennsylvania State University and is a proud member of Actor's Equity.
Wednesday, December 6, 2017 at 7:30pm
General Admission
$15 in advance
$18 at the door
Stu./Sen./idNYC
$12
Estimated Runtime
60 minutes
share £
Credits
Photo credit:
Paul Alfred de Curzon (for Psyche)
Links