MLCG (My Little China Girl)
Soomi Kim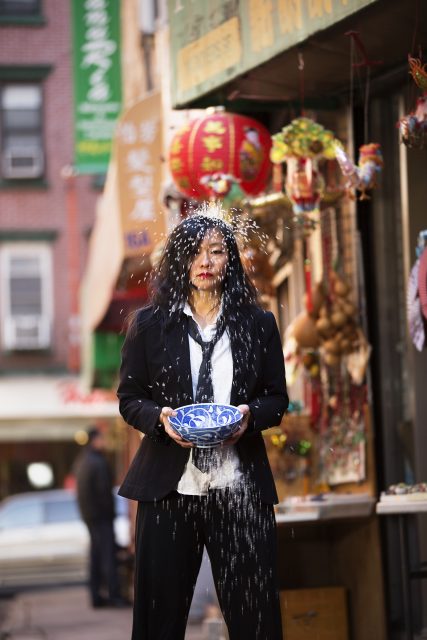 About This Show
When David Bowie died, performing artist Soomi Kim was suddenly reminded of her own coming of age in the MTV generation and her adolescent desire to be the exotic Asian woman in Bowie's China Girl video. MLCG (My Little China Girl) is a high octane solo performance that traverses Kim's experiences as a first generation Korean American navigating the single most tragic event in her life, the confiscation of memory and the attempts that were made to replace them. MLCG (My Little China Girl) will pair award winning artists Kim and director Leta Tremblay with video artists Justin West and Kevan Loney.
This Dixon Place Commission is made possible, in part, with funds from the Heathcote Art Foundation, Jerome Foundation, Mertz Gilmore Foundation, Jerome Robbins Foundation and other generous supporters.
About the Artists
SOOMI KIM (lead artist) is an award winning NYC based actor/movement artist who devises and creates work in the collaborative setting. She has co-created a trilogy of works in NYC with director Suzi Takahashi: Chang(e) 2015- HERE Arts Center (HARP artist), dictee: bells fall a peal to sky 2013- Women Center Stage (Culture Project), Lee/gendary (written by Derek Nguyen) 2008- HERE Arts Center. Other residencies: Mabou Mines (2014), Hemispheric Institute (2013), Asian Arts Initiative. She is an NPN Creation and Forth Fund artist for Chang(e). Kim's artist led projects were selected to be presented at the 1st, 3rd and 4th National Asian American Theater Festivals (NYC, LA and Philadelphia).  
Leta Tremblay (director) is a freelance director based in New York City. She has presented work at 59E59 Theaters, Theatre Row, Ensemble Studio Theatre, Eugene O'Neill National Theater Center, Cherry Lane Theatre, The Lark, New World Stages, Access Theater, The Kraine Theater, Paradise Factory, The Brick, FringeNYC, IRT Theater, The Gym at Judson, The Secret Theatre, The Cell, Davenport Theatre and site specifically. She is a graduate of Smith College and the Eugene O'Neill National Theatre Institute and has trained with the Wooster Group and SITI Company. Leta is the Producing Artistic Director of Caps Lock Theatre. Stage Directors and Choreographers Society Associate Member. www.letatremblay.com
Fridays & Saturdays, November 3, 4, 10, 11, 17 & 18, 2017 at 7:30pm
General Admission
$21 in advance
$24 at the door
Students/Seniors
$18
share £
Credits
Performed, written and choreographed by
Soomi Kim
Director
Leta Tremblay
Video design
Justin West and Kevan Loney
Scenic Designer
Bryce Cutler
Sound
Iggy Hung
Dramaturg and writing consultant
Mia Chung
Composer
Adam Rogers
Stage Manager
Lauren Schatten
Assistant Director
Adam Lee Secor
Movement consultant
Zeke Stewart
Special collaboration thank you:
Suli Holum
Photo credit:
Peter Yesley