International Human Rights Art Festival

Performance: Mary Speaks

Angela Polite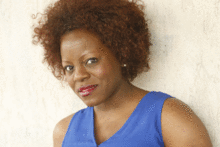 About This Show
Mary Speaks gives a voice to African-American mothers through history and looks at a spiritual lineage stretching from one of the most famous figures in the New Testament.
"Mary Speaks takes the life of Mary, the mother of Jesus, and uses it to explore the history of black mothers and the loss of their sons," Polite says. "Mother Mary becomes a prototype for the struggle of black mothers to raise and keep their sons alive in a society where his very existence is seen as a threat."
The show points to the parallels between the story of Jesus Christ and many innocent African-American boys and men whose lives have been lost.
The one woman show presents Mary not just as metaphor, but seeks to imagine or re-imagine her as a real person at different moments in history when mothers face loss.
"I play her as an African-American woman," Polite says. "This is the story of Mary told through the African-American experience, from the 1900s ,coming out of slavery, into the lynching years, the thirties, the fifties and the sixties. We see Mary as these different women throughout the timeline of the African-American experience."
Written and Performed by Angela Polite
Directed by Christopher Burns
About the Festival
Dixon Place and the Institute of Prophetic Activist Art present: The International Human Rights Art Festival, produced, March 3-5, 2017 at Dixon Place. This is the first human rights art festival in the long and vibrant history of New York City's cultural scene. The Festival is produced by Tom Block, long-time artist-activist, author of Prophetic Activist Art: Handbook for a Spiritual Revolution, and founder of the Institute of Prophetic Activist Art, an art-activist incubator housed at Dixon Place. Playwright and Director Julia Levine is the Assistant Producer.
The 2017 Festival will involve more than 70 artists presenting 40+ advocacy art events over the weekend, including theatre, visual art, music, dance, installations, workshops, panels, performance, films and KidsFest, to introduce children to the importance of art-advocacy work through hands-on activities. Join us for a weekend of art, advocacy, and celebration, with a happy hour featuring tasty human-rights themed concoctions, human rights trivia, prizes, t-shirts and much more.