Maps For a War Tourist
Sister Sylvester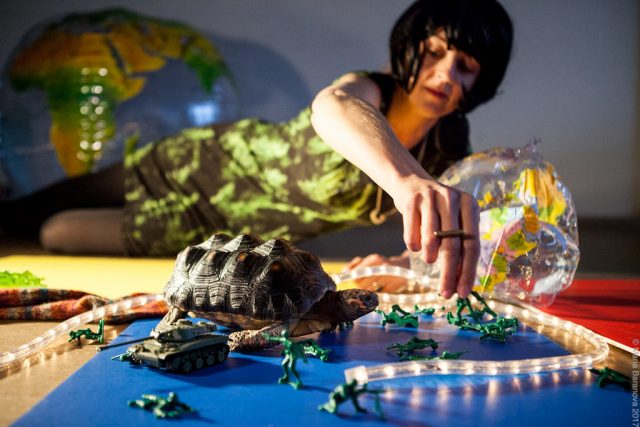 About This Show
Maps for a War Tourist is a true story of personal political geographic realities in Turkey. Daring theater company SisterSylvester dramatically converge revolutionaries, tourists, journalists, fixers, two turtles and an itinerant actress with startling text, sound, and imagery.
Stripping away Sister Sylvester's trademark chaos, the show is conceived and directed by Kathryn Hamilton, and co-created by Jeremy M. Barker and the ensemble of performers, which includes Cyrus Moshrefi, Kelsea Martin, Jeremy Toussaint-Baptiste, Ms. Hamilton, and a pair of tortoises named Squat and Creon.
About the Artist
Sister Sylvester is a New York and Istanbul based theatre company that uses documentary techniques and original research to explore untold stories using forms specific to live performance. Formed in 2008, they have created work in both site-specific venues like Kenny Scharf's Cosmic Cavern, a disused convent and a karaoke bar, as well as in theaters such as Abrons Arts Center, Dixon Place and The Public. Their work uses research into real stories, often on the fringe of pivotal historical events, to try and see those moments from a new angle and to understand our own time in a new way. Embracing dissonance and difficulty, the company invites disruption into both their process and their performance.
Sister Sylvester is the name of a ghost who haunted the company's first home/studio/performance venue and it became the company name for its gender-bending, feminist and spectral associations.
Maps for a War Tourist was supported by a Watershed Laboratory residency at Mount Tremper Arts.
Friday & Saturday, June 16 & 17 at 7:30pm
General Admission
$20 in advance
$23 at the door
share £
Credits