Lezzie With A 'Z'
Caitlin Lee Reid & Will Larche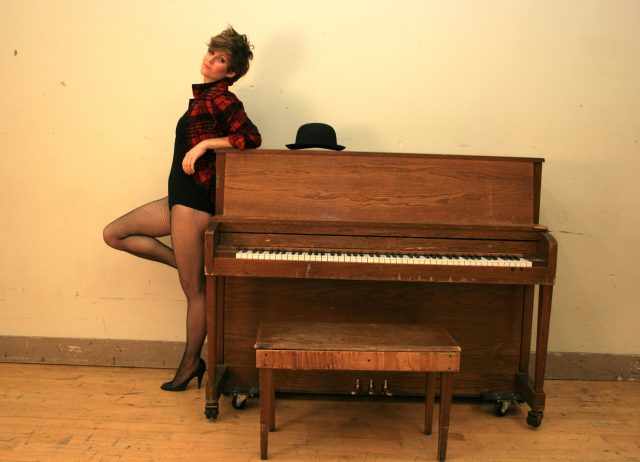 About This Show
Lezzie with a 'Z' is a one-woman show and an homage to Liza Minnelli's 1972 filmed theatrical production: Liza with a 'Z'. Peppered with Reid's dry wit and own real-life tales of being gay-married and gay-divorced by 27, she breaks the lesbian glass ceiling of musical theatre, and learns to strap-on and sing out. Written and performed by Caitlin Lee Reid and Will Larche.
about the artists
Caitlin Lee Reid (Performer/Writer) – Caitlin was last seen starring as Sue in the musical Lesbian Love Octagon. She performed in the East Coast Premier of The Break Up Notebook. Caitlin is a regular performer at LezCab, a musical theatre cabaret for queer women. She attended The University of Michigan and RADA. Other favorite roles include: The Rocky Horror Show (Magenta), and Red Light Winter (Christina).
Will Larche (Writer/Musical Director) – Will is a singer and songwriter living in New York City. His original one-man cabaret, Bumps in The Bathroom, has been performed at The New York Theatre Barn, Earl Dax's Pussy Faggot and The Duplex. He also arranged and performs in We Put The Spring In Springfield: The Music of The Simpsons and wrote the score to Bail Out The Musical. Will has performed in numerous musicals including Lucky Duck (directed by Bill Russell and featured on the original cast recording) and sang the role of the African-American vocalist in John Cage's Apartment House 1776 at the Cage Hop in Queens.
Joe Barros (Director) – Joe is a writer, director, and an award-winning choreographer with an emphasis on new work development. His work has been seen on Broadway in Gigi (associate director) and off-Broadway in Cagney, Bastard Jones, A Taste of Things to Come (associate director), I Married Wyatt Earp, Hard Times (NYIT Award nominee), Shoes & Baggage, Charlotte's Web, I Have Confidence: Rodgers After Hammerstein, King Kong (workshop). Joe's regional and international credits include Beaches, A Taste of Things to Come, Carrie, Nine and Die Fledermaus (Italy), Small Town Story, Mommie Dearest, plus Goodpseed Musicals and DC's Signature Theatre. Joe is also the Artistic Director of New York Theatre Barn.
Saturday, December 16, 2017 at 10pm
General Admission
$15 in advance
$18 at the door
Stu./Sen./idNYC
$12
Estimated Runtime
55 minutes
share £
Credits
Directed by
Joe Barros
Photo credit
Viridiana Lieberman
Links