IT WILL ALL WORK OUT
Chris Wells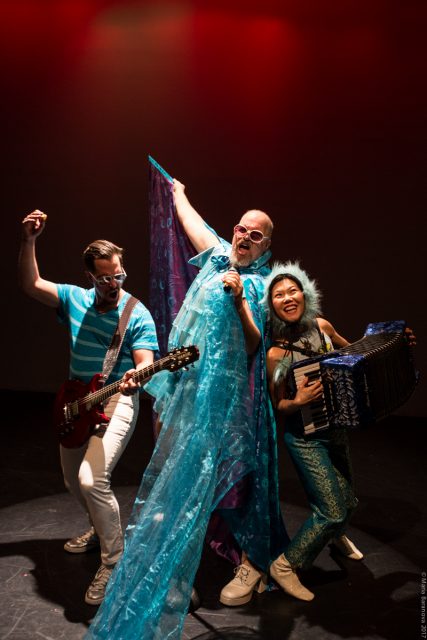 About This Show
"One of the most mercurially expressive performers I've had the pleasure of witnessing over decades in both L.A. and New York." 
American
Theater
Magazine
Rob Weinert-Kendt of 
American

 Theater 

Magazine

 said about the show — "The effect will be something like Orson Welles performing David Sedaris monologues in a Taylor Mac show."
"It Will All Work Out banishes worries with razzle-dazzle." – Alexis Soloski of The New York Times
"The scene, with Hwang on the accordion, is a microcosm of a show that through laughter, music, and sometimes tears, presents a portrait of a brave, soulful artist." – Victoria Ordin of Broadway World
It Will All Work Out takes stories from Chris' upcoming memoir, mixes them with funny, original songs and tops it all off with fabulous, colorful and outrageous outfits. It's going to be a night of high energy, queer fun, and deep feeling with a smokin' hot band and sexy backup dancers.
Written and Performed by Chris Wells*
with Susan Hwang, Janelle Lawrence & Juliet Garrett
Songs and Musical Direction by Jeremy Bass
Band: Jeremy Bass, Marlon Cherry, Ryan Rumery, & Jennifer Maidman
Director: Eliza Laytner
Choreographer: Elliot Peterson
Stage Manager: Brian R. Sekinger*
Scenic Design: Noelia Mann
Lights: Rob Lariviere
Costumes: Densie D'Onofrio and Estyn Hulbert
About the Artists
"A larger-than-life theatrical original." The New York Times  

Chris Wells, Obie Award winning performer and creator of the much-lauded art church, The Secret City, is a master storyteller and exuberant song and dance man. His new show, It Will All Work Out, takes stories from his upcoming memoir of the same name, mixes them with funny, original songs and tops it all off with fabulous, colorful and outrageous outfits. It's going to be a night of high energy, queer fun, and deep feeling with a smokin' hot band and sexy backup dancers.

"Chris Wells is excellent." The New York Times
Eliza Laytner (Director) enjoys re-interpreting the classics, helping develop new work and devising original performance. Recent credits include: a workshop production of The Joshua Complex with Lewis & Anderson; a film project entitled Like Her with BlueFlamingo; Josh Segal's Big Dogs (as a guest director at UCLA); and a modern translation of Aristophanes' Women in Congress, by Amanda Krauss and Jess Miner. She has assisted award winning directors Mel Shapiro, Jose Louis Valenzuela and Eve Ensler. Upcoming projects include: Civics Lessons with Blue Flamingo in June. She is thrilled to be collaborating on It Will All Work Out. MFA in Directing from UCLA. 
Elliot Peterson (Choreographer) is just tickled pink to be a part of It Will All Work Out. His performance credits include: touring internationally with Disney's Beauty and the Beast and the national tour of Elf the musical. Other credits include: 1776, Oliver, Funny Girl, 42nd Street, White Christmas and operas with the Glimmerglass Festival, Toledo Opera, Opera Carolina and Virginia Opera. Proud graduate of Syracuse University and Walnut Hill School. Special thanks to Chris for the opportunity, Eliza for her support, and Brian for being a rockstar. Love to Jordan. Check out @bumpgirl on Instagram for laughs and sass. 
Jeremy Bass (Original Music) is an award-winning singer-songwriter and poet. His EPs Winter Bare and New York in Spring both received prizes from the John Lennon Songwriting Contest, including the prestigious Lennon Award for Best Jazz Song. His forthcoming album The Greatest Fire, featuring members of Calexico, DeVotchKa, Iron and Wine, and Neko Case, will be released in September of 2017. His poems and reviews have appeared in The Nation, New England Review, The Los Angeles Review of Books, Boston Review, and elsewhere. He is also the Music Director and Bandleader for The Secret City. For more information visit jeremybassmusic.com
Noelia Mann (Scenic Design) is a social justice advocate, artist, and freelance aesthetic designer, whose interests lie at the intersection of art, therapy, and social justice. She is particularly interested in re-imagining costume, clothing, and design as a site for social change. Consistently juggling a variety of projects in the realms of costumes, sets, and interiors, she is also currently on staff at the Building Movement Project. BMP is a nonprofit organization that develops research, tools, and training materials to help nonprofits maximize their social justice impact. Before BMP, she spent four years working with a non-profit theater company and social justice organization, addressing gender-based violence through performance and storytelling. BFA NYU.
Brian R. Sekinger * (Production Stage Manager) NYC: 9 Circles (Sheen Center), Daddy Long Legs (Davenport Theatricals), Claudio Quest (NYMF), Zombies on Broadway (RKO Stage), Broken (Horizon), Self Made Man (Nikita), Sheila's Day (Lincoln Center Education), Jasper in Deadland (Prospect Theater), Eudaemonia (Not Just 3 New Plays), Standby (NYMF), The (*) Inn (Target Margin), Burnt Umber (Soulographie). REGIONAL: Christmas Carol (Northern Stage), Crazy For You, How to Succeed (New London Barn), Disgraced (Swine Palace), Who's Your Baghdaddy? (New Musical Foundation), Mary Stuart, Othello, 1 Henry IV, The Winter's Tale, Arcadia (Folger Shakespeare), Stoop Stories (Studio Theatre), August Wilson's 20th Century (Kennedy Center). MFA: Carnegie Mellon University. briansekinger.com
Susan Hwang (Ensemble) tells stories and makes things that are usually collapsible, like songs and times.  Her instruments take up space (accordion, Janggu—traditional Korean drum, piano, drums) but other physical objects she can't play, wear or eat intimidate her, so she keeps most of what she makes online. She founded, curates and hosts The Bushwick Book Club – a monthly performance series presenting new work by local musicians, artists and chefs inspired by literature (bushwickbookclub.com).  Her duo with songwriter/producer Charlie Nieland is called Lusterlit, and they refuse to play anything but songs about books (lusterlit.bandcamp.com).  She's toured internationally with Yara Arts, and she recently played the goddess Ishtar in Phoebe Kreutz's award-winning, epic joke-folk musical, "Go! Go! Gilgamesh!"  Susan plays accordions because they are pretty and lighter than pianos (barely).
Janelle Lawrence (Ensemble) received her B.F.A. in Musical Theatre from Manhattanville College. In her career she has appeared in ANTIGONE with Love Creek Theatre Company, SHOWTUNE and SWINGTIME CANTEEN with direction by Mark Cherry and has worked on readings of VIEUX CARRE with direction and an appearance by Austin Pendleton produced by Mississippi Mud. Janelle was recently in THE EXTRAORDINARY FALL OF THE FOUR LEGGED WOMAN by Lily Ali-Oshatz and Mark Galinovsky presented in the NYC Fringe Festival at the Off-Broadway Soho Playhouse Theatre. Janelle is so excited to be apart of the ensemble of IT WILL ALL WORK OUT!
Jennifer Maidman (Bass) sings, writes and plays bass guitar, guitar, keyboards, drums, percussion, ukulele, cuatro and Chapman Stick. Her work can be heard on hundreds of recordings, including many international hits. She recorded and mixed her first hit record in 1976, engineering Marc Bolan's "I Love to Boogie". Since then she's worked continuously as a musician, writer, arranger and producer, both live and in the studio, with many well known artists, including Joan Armatrading, Boy George, Gerry Rafferty, David Sylvian, Bonnie Raitt, Van Morrison, Linda McCartney, George Clinton, Murray Head, Mark Knopfler, Annie Whitehead, amongst others.  She was a member of the seminal British group Penguin Cafe Orchestra for 23 years. Spring 2017 will see the release of Jennifer's solo album entitled 'Dreamland', recorded in Woodstock, NY and Birchington, UK, featuring her long time partner Annie Whitehead on horns, David Torn, guitars and Jerry Marotta, drums.
Marlon Cherry (Percussion) is a multi-instrumentalist/composer who has worked with a wide range of artists inmusic, dance, film and theater including Church of Betty, The Roches, Jayne County, Soozi Hwang & The Relastics, directors, Jonathan Demme and Abel Ferarra, performance artist Penny Arcade, choreographers, Wendy Perron, Alison Cook Beatty, and Caitlin Trainor. He is also a staff accompanist at The Paul Taylor School, Barnard College, Peridance, and Steps On Broadway and a member of The Secret City Band (NY). Always thrilled to work with Chris Wells and doubly so for this project with this ensemble.
Juliet Garrett (Ensemble) graduated from Princeton with a degree in Political Philosophy almost two years ago. She moved to New York City to perform with her rock band, Psychobaby, and study acting with Mercedes Ruehl. She has been fortunate to appear in several independent films. For now, that's it. She is looking forward to the next chapter.  Follow along @julietgarrett
Fridays and Saturdays, April 14, 15, 21, 22, 28 & 29 at 7:30pm

General Admission
$20 in advance
$25 at the door
Stu./Sen./idNYC
$15
share £
Credits
Written and performed by
Chris Wells*
with
Susan Hwang
Janelle Lawrence
Juliet Garrett
Songs and Musical Direction 
Jeremy Bass
Band
Jeremy Bass
Marlon Cherry
Ryan Rumery
Jennifer Maidman
Director
Eliza Laytner
Choreographer
Elliot Peterson
Stage Manager
Brian R. Sekinger*
Scenic Design
Noelia Mann
Lights
Rob Lariviere
Costumes
Densie D'Onofrio 
Estyn Hulbert
Photography by 
Maria Baranova
*Appears courtesy of AEA