IPSA DIXIT
Kate Soper / Wet Ink Ensemble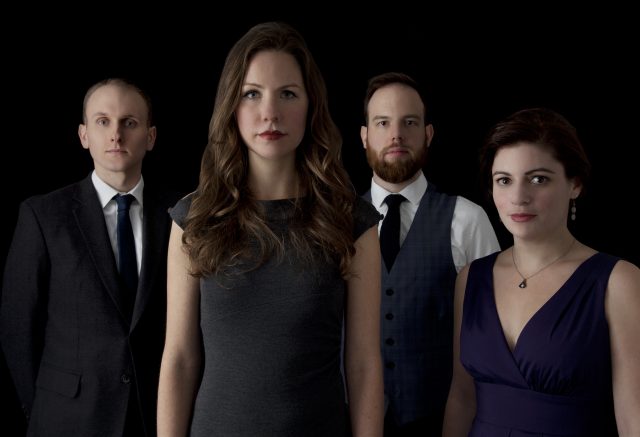 About This Show
IPSA DIXIT ("she has said it") is an evening-length work of theatrical chamber music that explores the intersections of music, language, and meaning through blistering ensemble virtuosity and extended vocal technique.  Drawing on texts by Lydia Davis, Freud, Plato, and Aristotle, and developed over six years of intense collaboration by the members of the Wet Ink Ensemble, IPSA DIXIT blends elements of monodrama, Greek theatre, and screwball comedy to skewer the treachery of language and the questionable authenticity of artistic expression.   
About the Artists
Kate Soper is a composer, performer, and writer whose work explores the integration of drama and rhetoric into musical structure, the slippery continuums of expressivity, intelligibility and sense, and the wonderfully treacherous landscape of the human voice.  She has been hailed by The Boston Globe as "a composer of trenchant, sometimes discomfiting, power" and by The New Yorker for her "limpid, exacting vocalism, impetuous theatricality, and…mastery of modernist style."  Soper has received awards and commissions from the Guggenheim Foundation, the American Academy of Arts and Letters, the Koussevitzky Foundation, the Los Angeles Philharmonic, and the American Composers Orchestra, among others, and is currently at work on an operatic adaptation of the medieval French allegorical poem "The Romance of the Rose."  Soper is a co-director and vocalist of the Wet Ink Ensemble. She is the Iva Dee Hiatt Assistant Professor of Music at Smith College.
The Wet Ink Ensemble is a New York-based new music ensemble with a 16-year history of outstanding achievement in the programming and presentation of contemporary music, lauded by The New York Times for "Dense, wild, yet artfully controlled" performances. Wet Ink has collaborated with a broad range of renowned artists, from Evan Parker to George Lewis, and is equally committed to promoting the works of young and underrepresented composers, from today's most promising emerging voices to the next generation of artists. Wet Ink's core ensemble is a septet of world class composers, improvisers, and interpreters that collaborate in band-like fashion, writing, improvising, preparing, and touring pieces together over long stretches of time. Wet Ink is Erin Lesser (flutes), Alex Mincek (saxophone), Ian Antonio (percussion), Eric Wubbels (piano), Josh Modney (violin), Kate Soper (voice) and Sam Pluta (electronics).
Ashley Tata is a freelance director working principally in the fields of new opera and multi-media performance. Recently: Molière's Don Juan (Fisher Center, Bard College); George Lam's Heartbreak Express (Rhymes with Opera); thingNY's This Takes Place Close By (Knockdown Center); Mojiao Wang's opera Encounter (National Centre for the Performing Arts, Beijing); Venture Opera'sDon Pasquale (National Opera Center, NYC); Lainie Fefferman's oratorio Here I Am featuring Newspeak Ensemble and Va Vocals (Roulette); Morningside Opera Company's A Weimar Flute, (Housing Works Bookstore); and a multi-media concert staging of David T. Little's Soldier Songs with video by Bill Morrison (Atlas Theatre, DC and The Holland Festival, Amsterdam, Beth Morrison Projects). As an assistant she frequently works with Beth Morrison Projects and directors Robert Woodruff, Daniel Fish, JoAnne Akalaitis, Jay Scheib and Michael Counts. Recipient of the Lotos Foundation's Emerging Artist Prize in the Arts and Sciences. MFA Columbia University.
February 3 & 4 at 7:30pm
General Admission
$15 in advance
$20 at the door
Students & Seniors
$12 (not valid for idNYC)
Estimated Runtime
95 minutes
share £
Credits
Performed by The Wet Ink Ensemble: Kate Soper (voice), Erin Lesser (flutes), Josh Modney (violin), and Ian Antonio (percussion)

Directed by Ashley Tata

Lights by Anshuman Bhatia

Projections by Brad Peterson

Costume design by Nina Vartanian
Photo Credit: Alexander Perrelli
Links