I Step On Air -PLUS- On Paper
Oxana Chi & Layla Zami AND Rosamond S. King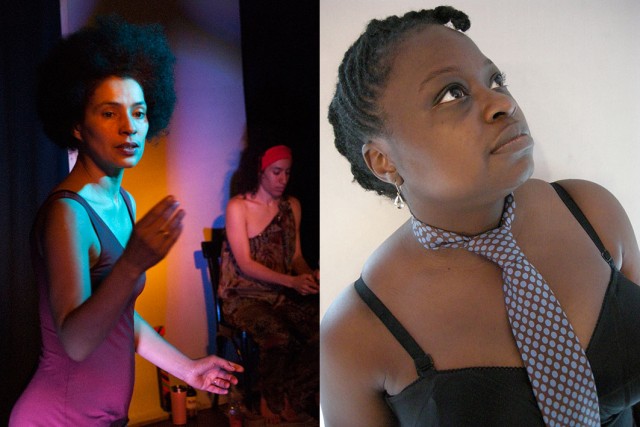 About This Show
I Step On Air
Oxana Chi & Layla Zami
Oxana Chi brings May Ayim's memory back to the stage, recalling her love of words and her lifelong struggle. The energetic and graceful choreography draws from Oxana's self-created 'fusion' dance, blending Romani Flamenco, West African and South American dances with contemporary movements and theatrical expressions. She is accompanied on stage by Layla Zami who performs poetry by May Ayim (translated into English) as well as her own compositions alternating between jazzy saxophone airs, experimental sounds, and soothing melodies on Senegalese and Mexican kalimbas. Embedding their own cultural heritage with May Ayim's legacy, the artists use a broad emotional range to express a strong political message. An entertaining and meditative show, which creates an intimate and liberating universe.
"outstanding avant-garde… a must-see for all culture-loving New Yorkers" — African-American poet Sadiq Bey (Berlin/Detroit)
On Paper
Rosamond S. King
On Paper questions and critiques the criteria used to determine who is a success. Professional, creative, and personal achievements and aspirations are read out loud and positioned on a wall or on the ground, based on the importance given to them by the Day Job. Mirroring the judgment of success and failure, the performer's body will rise and fall. The performance transforms a pristine white space into a complicated, crumpled, soiled area – much like the career of an artist with two careers.
On paper is supported in part by the Franklin Furnace Fund, supported by the Jerome Foundation.
ABOUT THE ARTISTS
OXANA CHI is an award-winning choreographer, dancer, filmmaker, curator and publisher. She was born in Germany of Eastern Nigerian and Eastern European descent and has been choreographing and performing her own pieces since 1991. Her repertoire is comprised of 17 feature-length
productions performed at international festivals in France, Indonesia, Germany, Taiwan, Martinique  and Singapore. As a solo dancer, she always appears on stage with live-musicians who perform outstanding compositions specifically for her pieces.
Currently artist-in-residency at Arts And Healing Center ran by Marlies Yearby in NYC, Brooklyn. Founder & Choreographer of Oxana Chi & Ensemble Xinren, Board Member of Hof Theater Berlin, Oxana has received various awards and grants including the Cite des Arts Residency (Paris), Berlin City Council for the Arts, Gerda Weiler Feminist Foundation and European Union programmes 'Fonds Soziokultur'. She is known in Europe for initiating and curating multidisciplinary festivals such as Salon Qi (Art Salon in Berlin and Paris from 2009 to 2014) and the 10-month Dance Festival TANZnews in cooperation with Werkstatt der Kulturen and the Berlin Senat City Council for the Arts.  She is featured in several films, including the feature documentary Dancing Through Gardens.
Drawing inspiration from her travels to 30 countries in Asia, Europe, Africa, the Pacific, and America, she is also a very creative artist who develops her own performing language : transcultural fusion, which alternates between energetic sequences and soft moves in combining aesthetic dance, dramatic expression, and poetic storytelling.
LAYLA ZAMI is an artist and scholar working with music, writing and visual art. She was born in Paris of Afro-Indian-Caribbean and Jewish-Russian-European descent. She is a Visiting Research Scholar at UCSD and a ELES Talents Program fellow for her doctoral research on diasporic memory in contemporary dance. A saxophone student of African-American jazz icon Fuasi Abdul-Khaliq, Layla is also a self-taught performer who plays with language, instruments and sounds. For "I Step on Air", Layla has toured several festivals including Black History Month Berlin, "Writing Women's Lives" Istanbult Yeditepe University, Homestory Deutschland Hamburg and "Gesellschaft Macht Geschlecht" Bielefeld. Currently artist-in-residency at Arts And Healing Center ran by Marlies Yearby in NYC, Brooklyn, she received several awards and grants including the 'Envie d'Agir' prize by the French Ministry of Youth and the Project Grant by German Foundation Zurueckgeben for Jewish Women in Arts for common projects with Oxana Chi.
Rosamond S. King is a creative and critical writer, performer, and artist whose work is deeply informed by Caribbean, African, and queer communities, by history, and by a sense of play. Her politically engaged performance art has appeared at the Encuentro (Montreal), the African Performance Art Biennale (Zimbabwe), Exit Art (NYC), and other venues around the world. Awards include the Franklin Furnace grant, Fulbright and Poets House Fellowships, and several residencies. She is the author of Island Bodies: Transgressive Sexualities in the Caribbean Imagination, and is an Assistant Professor at Brooklyn College, CUNY.
Wednesday, Sept. 23 at 7:30pm
General Admission
$12 in advance
$15 at the door
Students / Seniors
$10
Estimated Runtime
60 minutes
share £
Credits
Choreography, Dance, Directing & Costume design by
Oxana Chi
Composition, Live-Music & Spoken Word by
Layla Zami
Poetry written by
May Ayim
Translated into English by
Marion Kraft & Layla Zami
Photo Credit
Miriam Tamayo
Links