hypnagogia
Tiffany Osedra Miller & Peggy Gould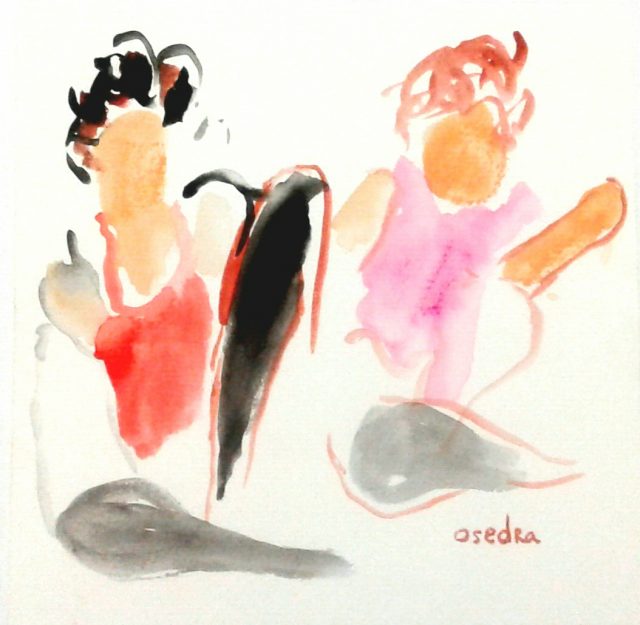 About This Show
This interdisciplinary work-in-progress is inspired by the poetic and atmospheric literary artistry of the 1920's Harlem Renaissance associated writer, Jean Toomer (Cane) and the Polish 1930's writer, Bruno Schulz (Street of Crocodiles) and their heightened depictions of their subjects' interior lives.  In this performance, dance, visual art, live music, theater, and digital processing frame the players in hypnagogia, the rarified realms of multi-consciousness accessible to us during meditation and deep sleep.  Mythic/historic alter egos are personified, revealing archetypal facets of identity that both embrace and defy recognition. What you see is what you dream.
about the artists
Tiffany Osedra Miller is a multi-disciplinary artist from the Bronx. She is the child of immigrants from the islands of Jamaica and Antigua. Tiffany received her B.A. from University of Maryland (English Literature), trained as performer, writer, and visual artist and has received a BRIO award for her screenplay, Where the Body Lies, originally a one-woman show, (Nuyorican Café, National Black Theater). She is also the creator of the Caribbean Carnival cartoon series, Goatwater.  A portrait artist and illustrator, Tiffany's artwork has been exhibited in NY, NJ and sold in U.S., Europe, and Australia.
Peggy Gould is a multi-discipline artist from PA, grandchild of immigrants from Russia, Romania, Poland; MFA in Dance/NYU Tisch School of the Arts, teacher of Alexander Technique; Dance Faculty/ Sarah Lawrence College, assistant to mentor in functional anatomy Irene Dowd; performances with Patricia Hoffbauer, George Emilio Sanchez, Tiffany Osedra Miller, Cathy Weis, Sara Rudner, Joyce Lim, Bryan Fox, and others; created ten original interdisciplinary works presented by Dixon Place (1996-2015) most recently "Imitation of a Performance of Life," performed at every DP location from 1st Street to Chrystie Street, and proud to call Dixon Place an artistic home.
Thursday, April 12, 2018 at 7:30pm
Friday, April 13, 2018 at 9:30pm
General Admission
$15 in advance
$18 at the door
Stu./Sen./idNYC
$12 in advance
$15 at the door
Estimated Runtime
60 minutes
share £
Credits
Featuring/Collaborators
Allison Easter, Efeya Olaberinjo Ifadayo Sampson, Jerome Morris, Jules Skloot, Peter Richards
Photo credit:
Tiffany Osedra Miller
Links