Here, Serpent
Tiresias Projekt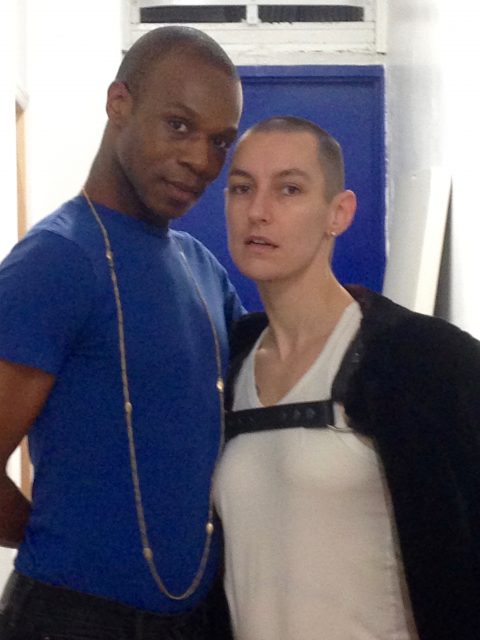 About This Show
Here, Serpent gives us Antony and Cleopatra stranded, queer, and outside of time. This experimental text integrates Shakespeare's treatment of their heroic story with the recurring, urgent, contemporary themes of desire and the erosion of the distinction between public and private life. The performers court death and each other, seeking their own power. Antony, clinging, lonely and earnest, and Cleopatra, lush, elegant, operatic, lead us to a vision which is both new and eternal. A vision of who our heroes and our lovers are, how they are erased, and how they survive.
about the artists
C. Bain is a gender liminal writer-performer based in Brooklyn. His work has appeared in journals and anthologies including PANK, The Rumpus.net, Muzzle Magazine, and the Everyman's Library collection Villanelles. His poetry collection, Debridement, was a finalist for the 2016 Publishing Triangle Awards. As an actor he has recently appeared in Marian: The True Tale of Robin Hood, Oscar Wilde's Salome, and Alexandro Segade's Future St. He is a member of the Actor's Center. He works extensively with trauma, embodiment, and sexuality, but he'd rather just dance with you. More at tiresiasprojekt.com.
Brian McQueen (Performer, devising member) is a bass-baritone residing in New York City.   He has appeared with the Lyric Opera Theatre of Arizona State University, the Manchester Literary Festival, Poetry International, The Metropolitan Opera Guild, and Trilogy: An Opera Company. As a recitalist, he served as Artist in Residence at the Tohno International Arts Association, touring six cities in Japan. Brian holds a BA in Music from the University of South Carolina, and MM in Voice from Miami University of Ohio. Most recently Brian was seen in Alexandro Segade's Future St.('We're Watching', Bard College & The abroad Museum, LA) and as soloist with Richmond Choral Society.
Tuesday, January 16, 2018 at 7:30pm
General Admission
$15 in advance
$18 at the door
Stu./Sen./idNYC
$12 in advance
$15 at the door
Estimated Runtime
50 minutes
share £
Credits
Script Supervisor, performer
C. Bain
Music Director, performer
Brian McQueen
Photo credit:
Sasha Warner Berry
Links