In the lounge

Hearts on the Wall

Dark Matter Productions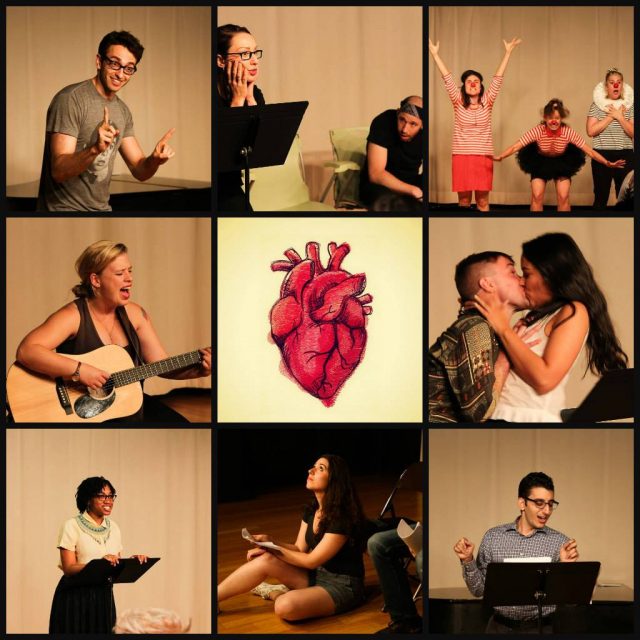 About This Show
HEARTS ON THE WALL is a monthly night of new, in-progress work performed by friends, community members, and young theater-makers (singers, actors, poets, photographers, writers, drag queens – everyone!) looking for a supportive audience and constructive feedback.
So come! Drink (for cheap), mingle (for fun), and be merry. This is an evening of curated performances where artists throw their hearts at the wall, and you let them know what sticks.
about the artists
Jordan Bean is a New York-based producer and Artistic Director for Dark Matter Productions. Jordan is the lead producer on all of Dark Matter's projects, including its monthly new works event Hearts On The Wall (darkmatternyc.org/hotw). She has previously directed and stage managed for The Dirty Blondes, Ivy Theatre Company, Toy Box Theater Company and F*It Club. She also holds the title of Administrative Coordinator and Assistant to Moisés Kaufman at Tectonic Theater Project.
Patrick Taylor is an actor and Associate Artistic Director for Dark Matter Productions. He has worked professionally at the Greenbrier Valley Theatre in Lewisburg, WV as well as 13th Street Repertory Company, Times Square Arts Center, Celebration of Whimsy, Littlefield and The Tank in NYC. Professional theater credits include JOE in Pretty Theft, VAN in Dog Sees God, STEPHEN in Line, GUY in Since I've Been Here and O'SHAUGHNESSY in Is He Dead? Patrick has worked on film and TV projects with TriFecta Productions and To & Fro Productions, most recently appearing in To & Fro's "Not Another Immigrant Story".
Monday, February 27 at 7:30pm
$5 suggested donation at the door
Estimated Runtime
45 minutes
share £
Credits
Artistic Director:
Jordan Bean
Associate Artistic Director:
Patrick Taylor
Interim Company Manager:
Jillian Weimer
Photo credits:
Patrick Taylor
Links