Dixon Place & harunalee present

War Lesbian Written by Kristine Haruna Lee, Music by Kathryn Hathaway,
Directed by Jordan Fein, Featuring Erin Markey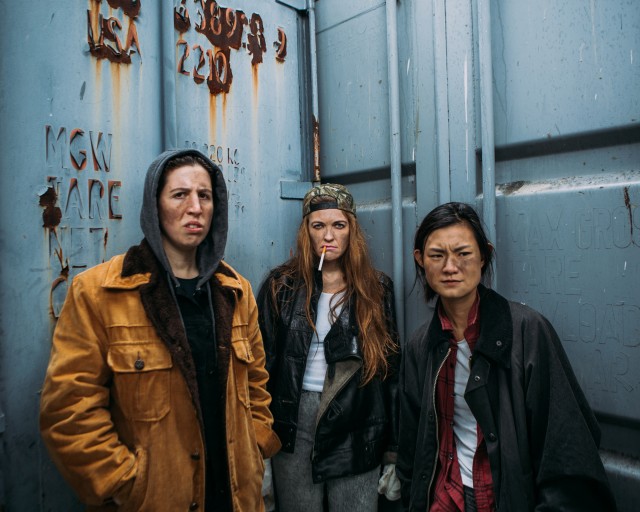 About This Show
WAR LESBIAN, is a new musical based on an Inuit myth about a woman who is rejected from her family for being different and embarks upon a journey creating wars with others and within herself. The musical deals with impossible probabilities, ridiculous heartbreak, and absurdity in which anything, and that means anything, goes. WAR LESBIAN is set in a universe where Ellen DeGeneres is a demonic demi-god and digging for truths and covering up holes can cause wars.
.
Join us for a benefit dance-off, After Party: The Island of Lesbos, presented by Dixon Place and harunalee; Friday December 5th after the show. Tickets for War Lesbian AND  After Party: The Island of Lesbos are $25!
About the Artists
Erin Markey  is a comedic performer, actress and singer. Her comical style has been described as "perverse, non-sequitur humor that keeps her audience laughing" (New Yorker) and "fantastically weird, fiercely committed, occasionally terrifying" (Time Out NY).  She performs with a "magnetic diva aggression" (New York Times) and "defies expectations you don't even know you have" (New York Post). She has shown work at BAM, Under The Radar Festival, New Museum, PS 122, Lincoln Center Director's Lab, San Francisco Film Society, and frequently at Joe's Pub (The Public Theater). As an actress, Markey is a company member of Obie Award winning Half Straddle, has performed with the Young Jean Lee Theater Company (Untitled Feminist Show) and won Boston's Elliot Norton Award for Outstanding Performance for her role in Tennessee William's Green Eyes. She is currently a 2013-2015 artist-in-residence at Brooklyn Arts Exchange developing a new music driven show, A Ride On The Irish Cream. She is a recipient of the 2012 NYFA Cutting Edge Artist Award and a 2014 Franklin Furnace Grant. She was recently recognized as a top ten artist in Time Out New York's "Best of Cabaret 2013″ and in their 2013 "Best of New York" issue as "Best Offbeat Diva Who's About to Blow Up."
Kristine Haruna Lee is a playwright, director, and performer. She was born in Hong Kong, raised between Tokyo and Seattle, and now lives in Brooklyn. She is one of the founding members of harunalee theater company. She has performed nationally and internationally with artists such as Taylor Mac, NAATCO, The Talking Band, Yubiwa Hotel and Trista Baldwin, Andrea Geyer's Comrades of Time at the Whitney Biennial, The Metawee River Theater Company, Yoshiko Chuma and the School of Hardknocks, Jim Neu, William Burke, Kate Benson and Antony and the Johnsons. She holds a BFA from NYU Tisch, and an M.F.A from Brooklyn College with Mac Wellman and Erin Courtney.
Kathryn Hathaway is an interdisciplinary artist based in Brooklyn. Her plays and musicals have been performed and developed at Rattlestick Playwrights Theater, The Flea Theater, New Dramatists, The Yale Institute of Music Theatre, The Bushwick Starr, Dixon Place, The Prelude Festival, New York Musical Theatre Festival, Joe's Pub, and the BMI Musical Theatre Workshop. She is a MacDowell Colony fellow, an alumna of Barnard College, and received her MFA in playwriting from Brooklyn College.
harunalee is an ensemble of performers and designers who collaborate across artistic disciplines to create experimental performance and plays written by Kristine Haruna Lee. New York Theatre Review calls it, "a feast for the eyes as well as the mind and heart." Since 2010, they have been developing and producing work throughout New York (Plum de Force at Bushwick Starr; Drunkfish Oceanrant at Jack; She's Sleep at Ars Nova) and have received a 2013 LMCC grant for their upcoming collaboration with Built for Collapse, and a Dixon Place Artist Residency and Commission for War Lesbian. harunalee is Stevo Arnoczy, Sasha Arutyunova, Andrew R. Butler, Sarah Lurie, Lauren Swan-Potras, Marisa Lark Wallin, and Kristine Haruna Lee.
Funders
This production is commissioned by & first being presented at Dixon Place in NYC w/ public funds, in part, from the NYS Council on the Arts w/ the support of Gov. Andrew Cuomo, the NYC Dept. of Cultural Affairs in partnership w/ the City Council, & private funds by the Jerome & Peg Santvoord Foundations.
Fridays & Saturdays, Dec 5, 6, 12, 13, 19 & 20 at 7:30 and Dec 20 at 10:00pm
$16 in advance
$20 at the door
$12 students / seniors
Estimated Runtime
90 minutes
share £
Credits
written by
Kristine Haruna Lee
music by
Kathryn Hathaway
directed by
Jordan Fein
starring
Erin Markey
music direction by
Solomon Hoffman

produced by
Joel Glassman
set design by
Amy Rubin
costumes by
Karen Boyer
lights by
Sarah Lurie
sound and projections by 
Stevo Arnoczy
press representative:
Glenna Freedman
cast: Erin Markey, Jessica Almasy, Kristine Haruna Lee, Preston Martin, Stephanie A. Hsu, Chris Tyler, Derek Smith, Andrew R. Butler, Cyndi Perczek, and Amir Wachterman
Finger Seal:  Sophia Tranor
photo credit:
Sasha Aleksandra Arutyunova
Links