In the lounge

GUTS

Featuring Liena Vayzman & Madhu Kaza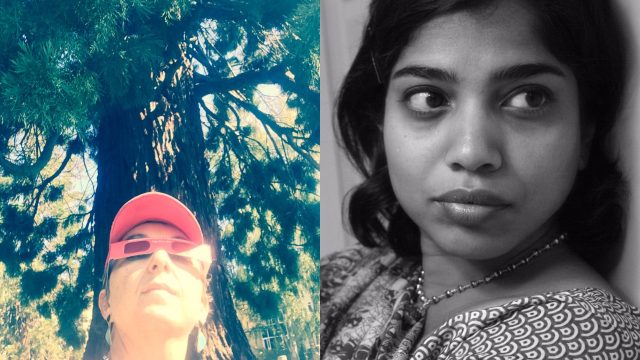 About This Show
GUTS is a pan-genre experimental literary performance series curated by Dia Felix!
About the Authors
Liena Vayzman is an art historian and photographer. The farthest she has traveled for 1 minute 40 seconds of solar eclipse totality is 2,454 miles. Her writing has been published in Art Practical (San Francisco), X-TRA Contemporary Art Quarterly (Los Angeles), Radical Society, Sinister Wisdom, Proximity Magazine, Yale University Art Gallery Bulletin,Hanatsubaki Art Magazine (Tokyo) and the exhibition catalogue Magic Mirror: Claude Cahun / Sarah Pucill (London). She curated the Crystal Palace Experimental Film and Video Festival (New Haven) and Home: The Aesthetics and Politics of Home in Contemporary Art (Root Division). Vayzman's photographs have been shown at Krowswork (Oakland), Galerie Praz-Delavallade (Paris), LU Factory (Nantes), and Grunert & Gasser Gallery (New York). Liena Vayzman is Assistant Professor of Fine Arts at LaGuardia Community College, City University of New York.www.lienavayzman.org
Born in Andhra Pradesh, India, Madhu Kaza works as a writer, translator, artist and educator in New York City. She is a translator of contemporary Telugu writers including Volga and Vimala. Over a period of ten years she made several performance art pieces around the theme of Hospitality to explore connections between strangers and hosts, foreigners and natives. Her work has been published in Chimurenga, Asterix, Waxwing, The Encyclopedia Project, and more. Recently she edited Kitchen Table Translation, which features immigrant and diasporic translators and explores the connections between translation and migration.
Tuesday, October 24, 2017 at 7:30pm
Estimated Runtime
50 minutes
share £