In the lounge

Guerrilla Lit Reading Series

Featuring Luis Jaramillo, Keisha Bush, and John Reed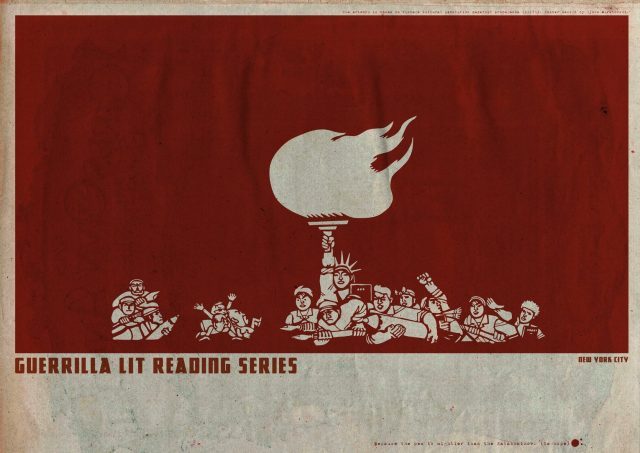 About This Show
This series has hosted readings by emerging & established authors since 2007. Because the pen is mightier than the Kalashnikov (we hope). Curated by Lee Matthew Goldberg, Camellia Phillips, and Marco Rafalá. Hosted by Marco Rafalá.
Featuring Luis Jaramillo, Keisha Bush, and John Reed
About the Authors
Luis Jaramillo is the author of The Doctor's Wife, winner of the Dzanc Books Short Story Collection Contest, an Oprah Book of the Week, and one of NPR's Best Books of 2012. Luis's work has also appeared in Open City, Gamers (Soft Skull Press), Tin House Magazine, H.O.W. Journal, and Red Line Blues. He is the Director of the Writing Program at the New School, where he is also co-editor of the journal The Inquisitive Eater: New School Food. He has led workshops on yoga and writing at the New School Summer Writers Colony, NYU Paris, and the Laughing Lotus Yoga Studios in Manhattan and San Francisco. He received an undergraduate degree from Stanford and an MFA from The New School.
Keisha Bush was born and raised in Boston, Massachusetts and has lived in New York City for sixteen years. She currently lives in East Harlem. She has received writing fellowships from the Virginia Center for the Creative Arts, Vermont Studio Center and VONA Voices. She received her MFA in creative writing from The New School and where she was a Riggio Honors Teaching Fellow, Eugene Lang College Teaching Assistant and recipient of a NSPE Dean's Scholarship. She has her Bachelors of Science in business management from Bentley University. Her debut novel, No Heaven For Good Boys, was acquired by Cindy Spiegel at Spiegel & Grau/Random House for a Spring 2018 publication.
John Reed is the author of four novels: A Still Small Voice, Snowball's Chance, The Whole, All the World's a Grave: A New Play by William Shakespeare, and Free Boat: Collected Lies and Love Poems.
Wednesday, March 22 at 7:30pm
Estimated Runtime
50 minutes
share £