In the lounge

Guerrilla Lit Reading Series

Featuring Claudia Serea, Laurie Stone, Elizabeth Gaffney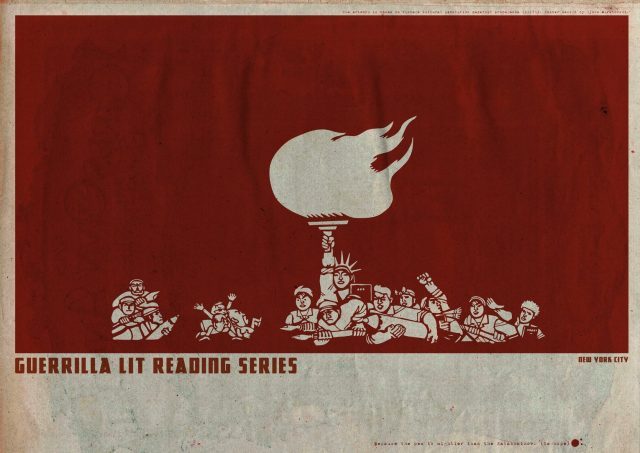 About This Show
This series has hosted readings by emerging & established authors since 2007. Because the pen is mightier than the Kalashnikov (we hope). Curated by Lee Matthew Goldberg, Camellia Phillips, and Marco Rafalá. Hosted by Camellia Phillips.
Featuring Claudia Serea, Laurie Stone, Elizabeth Gaffney
About the readers
Claudia Serea is a Romanian-born poet who immigrated to the U.S. in 1995. Her poems and translations have appeared in Field, New Letters, 5 a.m., Meridian, Gravel, Apple Valley Review, RHINO, and many others. She is the author of Angels & Beasts (Phoenicia Publishing, Canada, 2012), A Dirt Road Hangs From the Sky (8th House Publishing, Canada, 2013), To Part Is to Die a Little (Cervena Barva Press, 2015) and Nothing Important Happened Today (Broadstone Books, 2016). In 2015, Claudia Serea was featured in the documentary Poetry of Witness, alongside Carolyn Forché, Bruce Weigl, Duncan Wu, and others. Serea co-hosts The Williams Readings poetry series in Rutherford, NJ, and she is a founding editor of National Translation Month.
Laurie Stone is author most recently of My Life as an Animal, Stories. She was a longtime writer for the Village Voice, theater critic for The Nation, and critic-at-large on Fresh Air. She won the Nona Balakian prize in excellence in criticism from the National Book Critics Circle and has published numerous stories in such publications as Tin House, Evergreen Review, Fence, Open City, Anderbo, The Collagist, New Letters, TriQuarterly, Threepenny Review, and Creative Nonfiction. In 2005, she participated in "Novel: An Installation," writing a book and living in a house designed by architects Salazar/Davis in the Flux Factory's gallery space. She has frequently collaborated with composer Gordon Beeferman in text/music works. The world premier of their piece "You, the Weather, a Wolf" was presented in the 2016 season of the St. Urbans concerts. She is at work on The Love of Strangers, a collage of hybrid narratives. Her website is: lauriestonewriter.com.
Elizabeth Gaffney is the author of the novels Metropolis and When the World Was Young. She's translated 4 books from German and published many short stories in literary magazines, most recently A Public Space, Conjunctions and Craft. A Brooklyn native and founding member of the editorial staff at A Public Space, she also teaches writing at A Public Space, The New School, NYU and at Queens University's low-residency MFA program.
Wednesday, March 28, 2017 at 7:30pm
Estimated Runtime
50 minutes
share £