Eyes of a Blue Dog
Grace Herman-Holland & The Woolgatherers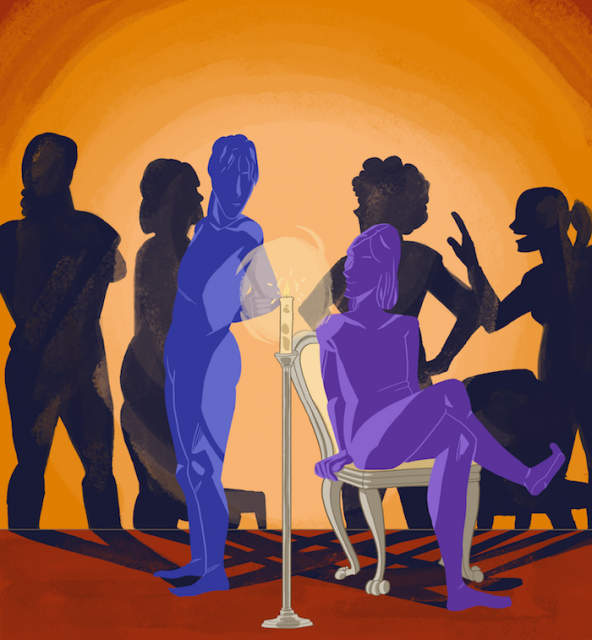 About This Show
For years now, they've been meeting in their dreams. In reality, they've never met.
One wakes each morning and searches for the other. But the other wakes and remembers nothing of their dreams.
Eyes of a Blue Dog, adapted from the short story by Gabriel García Márquez, is an explosion of hopes ignited and extinguished. The Woolgatherers spent a season exploring this story all around New York City—on trains and busses, in parks and grocery stores—piecing together the sounds and images they found. That collage of fantasy and reality is this show: a cyclical dream-play about love- lost and found, sought and forgotten.
about the artists
Grace Herman-Holland is an NYC-based director and deviser who makes energetic, genre-bending performances. She has recently worked at Ars Nova, Cap 21, Governors Island, HERE Arts Center, SITI Company, the Grotowski Institute, and the Kyoto Art Center. She is the co-artistic director of The Woolgatherers Theater Group. Grace graduated with honors from Wesleyan University with a BA in Theater, and was awarded the Rachel Henderson Memorial Theater Prize.
Sarah Corbyn Woolf is an actress and co-founder of The Woolgatherers. Focusing primarily on classical theater and ancient stories, she is always seeking the threads that run through centuries of theater, art, and humanity. Her training includes Shakespeare & Co, The Linklater Center, The Humanist Project, and Wesleyan University.
Anthony Sertel Dean is a sound designer and theater artist based in New York. His work takes a multidisciplinary and research-based approach to performance, hoping to create a more detailed and inclusive art. Anthony's sound work can be heard in theater, film, art installations, and music ensembles. Anthony is the technical manager for The Tank and a technical collaborator with The New York Neo-Futurists. Anthony is a graduate of Wesleyan University, where he now works as a visiting sound designer.
Saturday, May 26, 2018 at 7:30pm
General Admission
$15 in advance
$18 at the door
Stu./Sen./idNYC
$12 in advance
$15 at the door
Estimated Runtime
80 minutes
share £
Credits
Company
The Woolgatherers Theater Group
Created and directed by
Grace Herman-Holland
Music & sound design by
Anthony Sertel Dean
Produced by
Sarah Corbyn Woolf & Grace Herman-Holland
Designers & cast
TBA (by March)
Photo credit
Liam Donnelly