PEN World Voices Festival of International Literature

Exposure: Politics, Sex and Power

Alexandra Munroe, Rokudenashiko, Ali Asgar & Mohsen Namjoo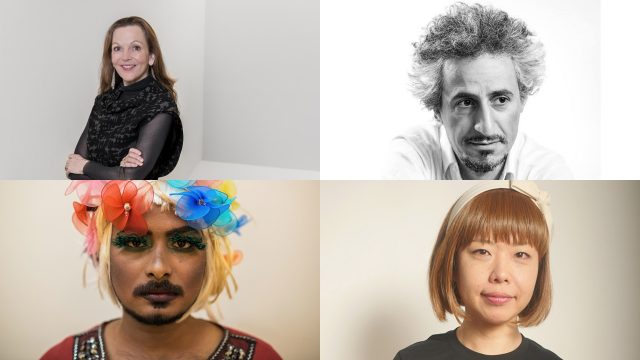 About This Show
Japanese sculptor/manga artist Rokudenashiko, Bangladeshi installation and performance artist Ali Asgar, and Iranian singer, songwriter and music scholar Mohsen Namjoo use their art to explore politics, gender and identity, facing persecution at home. Moderated by Alexandra Munroe.
about the panalists
Alexandra Munroe, Ph.D. is a curator, Asia scholar and author focusing on art, culture and institutional global strategy. Samsung Senior Curator of Asian Art and Senior Advisor, Global Arts at the Solomon R. Guggenheim Museum and Foundation, she has led the Guggenheim's Asian Art Initiative since its founding in 2006.
Mohsen Namjoo is an Iranian artist, songwriter, singer, music scholar and setar (traditional Persian lute) player based in New York City. Hailed as "the Bob Dylan of Iran" by the New York Times, Namjoo is a visionary artist who speaks for the youth in Iran. Seamlessly blending the Classical Persian setar with electric guitar, and rock and blues vocal techniques with Persian avaz (singing), he fuses the ancient with the current. His latest album "Personal Cipher" was released on June 5th, 2016.
Born in 1991, Ali Asgar is a Bangladeshi artist whose work focuses primarily on the body and space as the main element of their practice. Ali's work surrounding gender, sexuality and social taboos often reflects upon their personal struggle with the conservative Bangladeshi attitude toward members of the LGBTQ community. They were awarded an Artist Protection Fund Fellowship in 2016 and are currently in residence at the University of Maine, where they continue to create politically-inspired projects that emphasize trauma, dislocation, isolation, body politics and queer identity.
Rokudenashiko is an artist and cartoonist based in Tokyo and Dublin. Her work has been exhibited around the world but became a global sensation in 2015 when the 3D replica of her vulva rendered into the shape of a kayak landed her in jail, which brings us What is Obscenity: The Story of a Good For Nothing Artist and Her Pussy. She continues to write about female representation, misogynist censorship practices, and prison reform, while persisting in the fight for acquittal from the obscenity conviction. Rokudenashiko's latest book, What is Obscenity: The Story of a Good For Nothing Artist and Her Pussy
Tuesday, May 2 at 7pm
Estimated Runtime
120 minutes
share £
Credits
Photo credit:
David Heald (for Alexandra)
Christopher Mortier (for Ali)
Links