Every Man's Home (Is His Wife's Castle) ~PLUS~ OceanTalk
Thomas Gibbons ~PLUS~ Liza Berkenmeier & RN Healey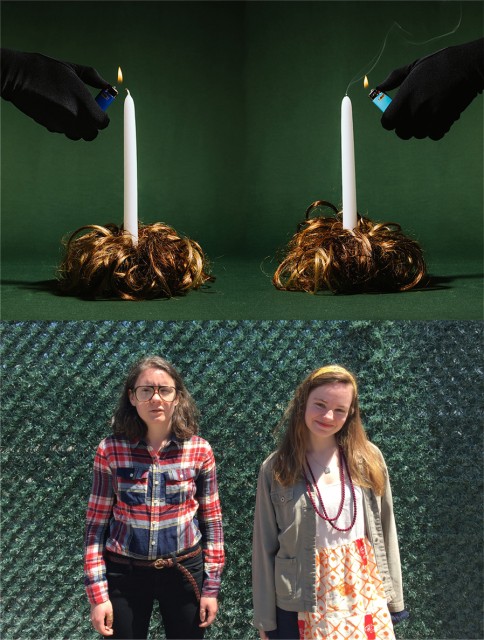 About This Show
Named for one of those terrible pillows you see at HomeGoods, Every Man's Home (Is His Wife's Castle) is a bold, performative diptych. Tennis, live-feed cameras, mullets, still life sculpture, and vernacular architecture mount to the cynically graphic and heartbreaking mythology of a male stripper named Brian.  Compelled by forms of voyerurism through found media, the dance is an aesthetic riot in conversation with the artist's own sculptural and photographic vocabulary. Every Man's Home… is in an attempt to unpack and dissolve uncanny tensions between viewer/viewed, shame/joy, ownership/object  by making space for contradiction.
~PLUS~
In OceanTalk, Black Rock High English teachers Laurie Grimes and Beth Shenendoah host a weekly sea-themed talk show with guests and other surprises. Laurie Grimes is the author of the 2008 collection Rocks and Other Things to Throw. Beth was the winner of the 2013 Heartland Women's Poetry Competition, and you can take her creative writing seminar at the BLCC (Main Street). They are both Michigan natives and love the ocean!
About the Artists
Every Man's Home (Is His Wife's Castle)
Listed as one of i-D Magazine's ''2015 Ones To Watch,'' Thomas Gibbons is a dancer, model and multimedia artist.  He has acquired a singularly confusing portfolio ranging from Anne Imhof's DEAL at MoMA PS1, video collaborations with NOWNESS, Yoko Ono and Tom Ford and The Public Theater's Shakespeare In The Park. Most recently seen in Authority Figure and TDC's preview of Wet Clutch at CATCH, he has also shown solo work at Triskelion Arts', Brooklyn Studios for Dance and All Boats.
Kate Hopkins' recent directing credits include The Pool Skimmer (Clubbed Thumb Directing Fellowship), what's this called, this spirit? (Dixon Place & Ars Nova), The Diary (Dream Up Festival), Arcadia (International Thespians production), and Storage (Philly Fringe Festival). In addition, Kate has assisted Anne Kauffman (The Nether, MCC Theatre; Belleville, NYTW; Cherokee, The Wilma Theatre), Stein|Holum Projects, Oliver Butler (The Debate Society's Jacuzzi, Ars Nova), Daniella Topol (Charles Ives Take Me Home, Rattlestick Theatre), and Kevin Kuhlke (Trojan Women,NYU). Kate received her BFA from NYU's Experimental Theatre Wing.
Joshua Tuason earned his BFA in Dance from Marymount Manhattan College under the direction of Katie Langan. After graduation, he was a member of the Martha Graham Ensemble and currently works with Ellen Cornfield and Ian Spencer Bell. He joined the Stephen Petronio Company in 2009, and is still a member.
Stevo Arnoczy formed LiveMusicVideo, a company dedicated to exploring live performance in tandem with projected content. Recently, he has worked with Imaginary Media Artists, Maya Ciarrocchi, Mike Ruiz, and Kayvon Zand. His work has been seen in NYMF (New York Musical Festival), Ars Nova, 3LD, Theater Row, XL Nightclub, Kent 285, TBA, The Living Theater, The House of Yes, and The Bushwick Starr. He is a graduate of NYU.
Mike Rinaldi graduated from the York University/Sheridan College Bachelor of Design Program. Mike is based in Montreal where he creates surreal, hyper-sexualized computer rendered illustrations. He has created digital illustrations for clients like SSENSE, Adult Magazine, The Editorial Magazine, Katblut, Gayletter and designer Christian L'Enfant Roi.  
Maddy Talias is a Brooklyn based photographer who shoots everything from travel, fashion, portraiture, music and dance. Her video work has been used by clients such as Stance, Adidas, and Viceroy Hotels. She has been photographing The Dance Cartel since 2013 and continues to collaborate with the company.
OceanTalk

Liza Birkenmeier is a member of the Emerging Writers Group at the Public Theater. Her play Tragedy in Spades: A Crime Documentary recently premiered at University Settlement with Katherine Brook/TELE-VIOLET and the Performance Project. Her work has been seen or heard at CATCH, Dixon Place, Ars Nova, Prelude NYC, City Theatre, The School at Steppenwolf, San Francisco Playhouse, New Georges, Lincoln Center Directors Lab, Rattlestick's Jam, and elsewhere. Her play radio island was a finalist for the inaugural Relentless Award. She was a member of the 2014-2015 Play Group at Ars Nova and a recent MacDowell Colony Fellow.
RN Healey is a New York native who writes plays and essays. Her play NUN$ was produced at the Brick with Brave New World Repertory Theater. Her work has also been produced or developed at Bricolage Production Company, Meat and Bone, Dixon Place, Cultural DC, the Kennedy Center, and the O'Neill Conference. She is the recipient of the Mark Twain Award for Playwriting and a finalist for the Alfred P. Sloan Screenwriting Award. Her short play That Asshole with the Stick was recently published in an anthology of Bricolage Production Company's B.U.S. plays.
Thursday, July 7 at 7:30pm
General Admission
$15 in advance
$18 at the door
Students/Seniors/idNYC
$12
Estimated Runtime
60 minutes
share £
Credits
Every Man's Home (Is His Wife's Castle)
Created by
Thomas Gibbons
Associates
Joshua Tuason & Kate Hopkins
Projectionist
Stevo Arnoczy
Photographer
Maddy Talias
Illustrator
Mike Rinaldi
OceanTalk
Written & Performed by
Liza Birkenmeier + RN Healey
Photo Credit
Maddy Talias (for Thomas Gibbons); Shannon Ponche (for Liza Berkenmeier & RN Healey)
Links